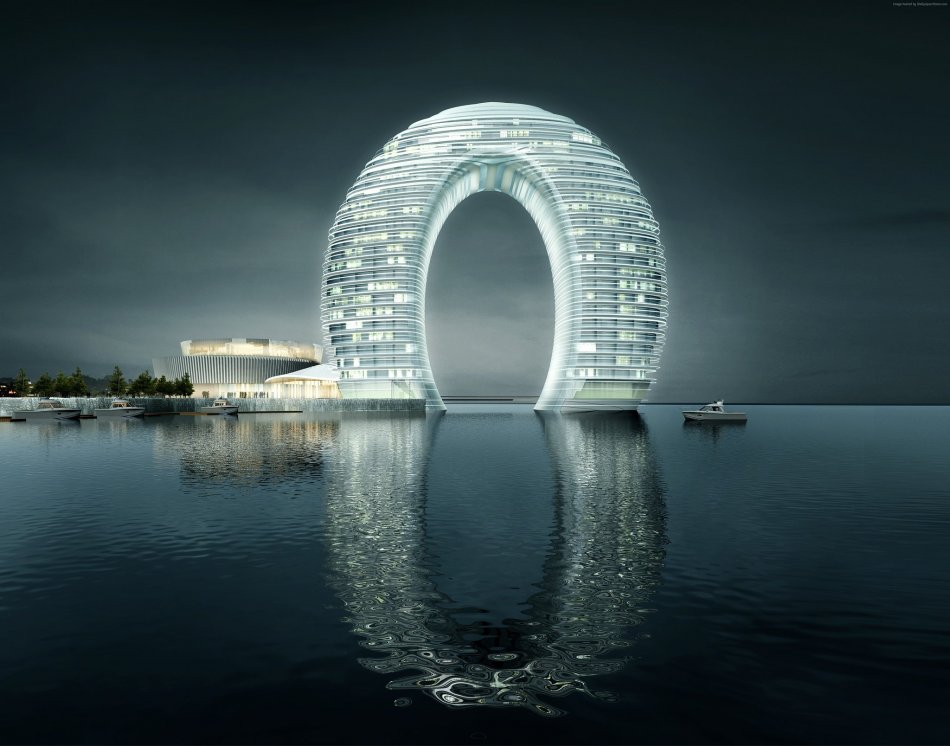 Vacation time is in full swing. Hotels are no longer just boring houses used merely for overnight stays. Impressive buildings are being built all over the world and are attracting people interested in more than just accommodations. Are you disappointed by this year's cancellation of foreign travel, keeping you from discovering new and impressive foreign real estate? Then enjoy the world's most architecturally interesting hotels and resorts in the world! There are even a few tips from the Czech Republic.
Sci-fi hotel in a vineyard
The futuristic-looking Hotel Marqués de Riscal is located in Elciego, Spain, in the center of a famous wine region. The building then looks like a collection of variously twisted metal bows. According to architect Frank O. Gehry, this design is intended to reflect the region and its wineries. Gehry is a legend of modern architecture. His projects are characterized by twisted lines and eccentric plays with curved metals. One of his many credits is his participation in the design of the Dancing House in Prague. If this speaks to you, and if you like good wine, you should definitely consider visiting the Marqués de Riscal.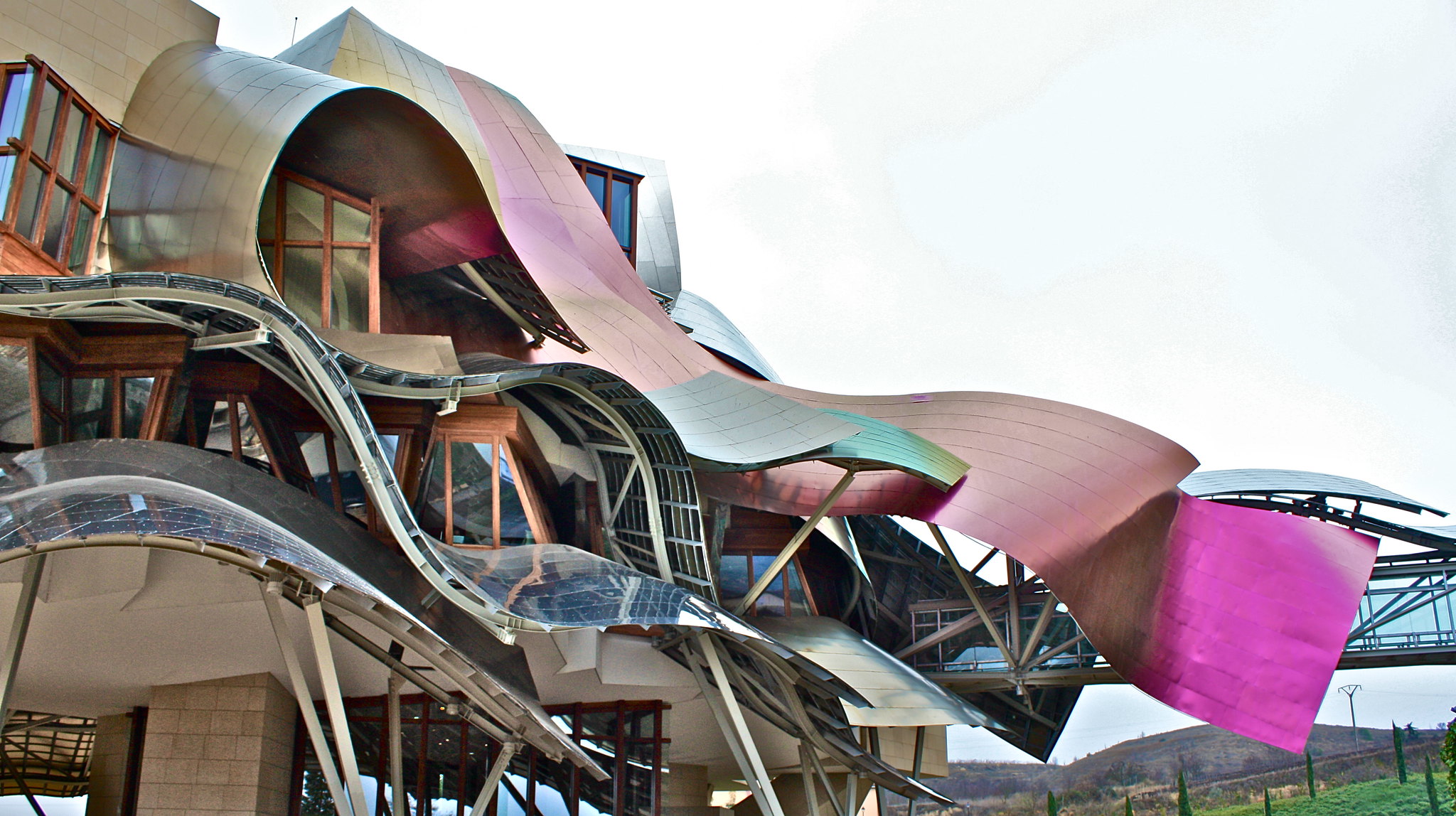 Source: https://www.flickr.com/…/25421760675 , author: iñaki 
A swimming pool on the roof of the world
This luxury property abroad looks like it's arrived from the future. This time we present the Marina Bay Sands hotel in Singapore. It consists of three main buildings carrying a 340-meter-long "ship". The ship serves as a spacious terrace offering a magnificent view over the city. At its highest point, it reaches a height of up to 200 meters. It has gardens and a 150-meter pool. It can even boast a world record – when it opened in 2010, it was the world's most expensive hotel. This luxury new building cost an incredible $8 billion. In addition to the hotel with more than 2,500 rooms, it has easily found use as a commercial building. It contains a casino, a museum, restaurants, and shops, and also hosts cultural events.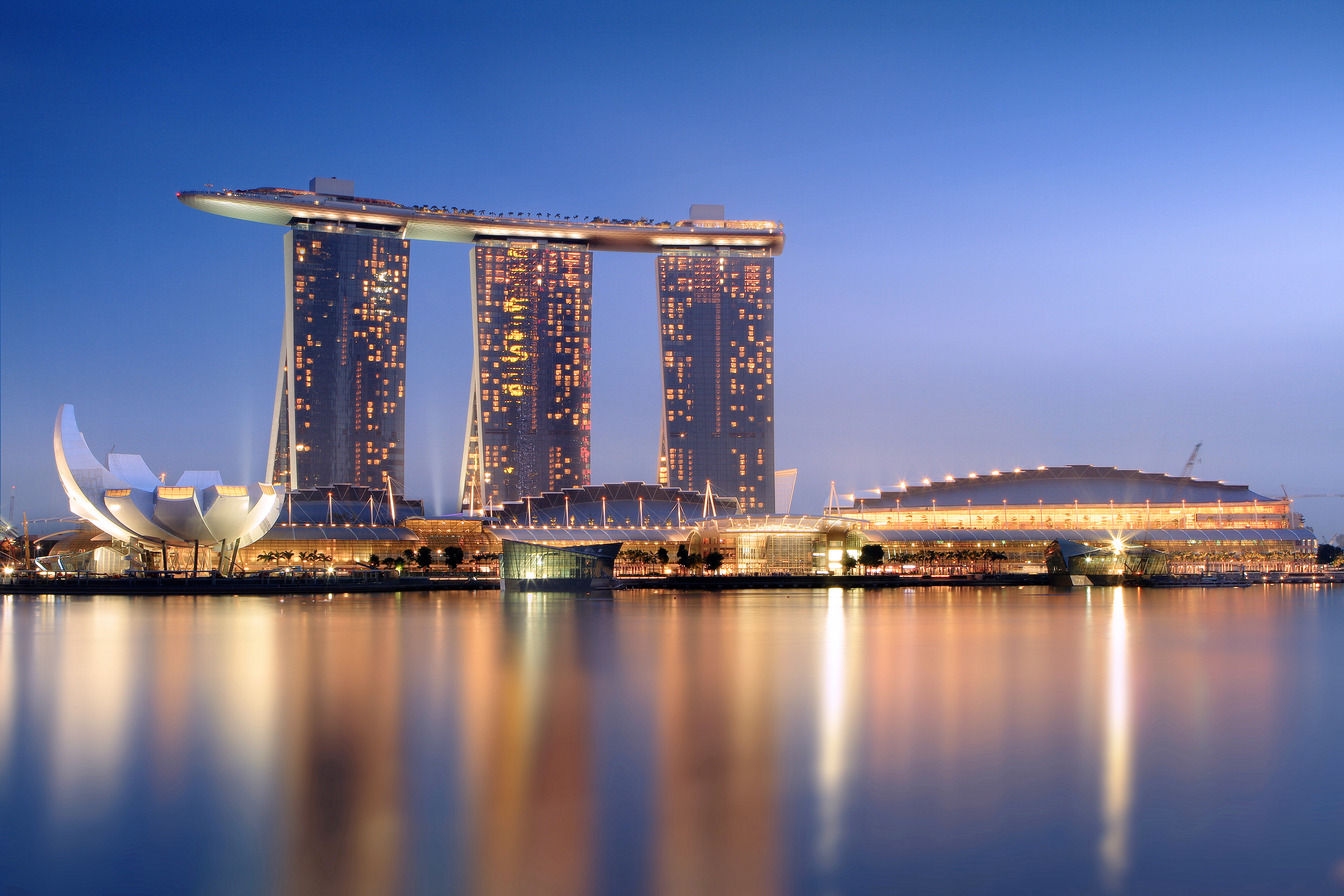 Source: https://commons.wikimedia.org/…20101120.jpg, author: Someformofhuman 
Sea gate
The Sheraton Huzhou Hot Spring Resort in eastern China has a truly interesting shape. Its nickname is "doughnut hotel" or "horseshoe hotel". It looks like a capital letter O, the lower part of which is hidden under water. Both towers are even connected at the bottom by an underwater bridge. The structure stands out even at night, when it features a beautiful light show. The entire area is backlit by LED lights, enabling it to change colors. The building rises to a height of 100 meters and is 116 meters wide. There are 321 very luxurious rooms on 27 floors. The resort also offers spa services, as naturally occurring hot springs are located below the complex.
Source: https://www.flickr.com/…/24304897766, author: John Voo 
Multicolored jigsaw puzzle
The Inntel Hotel Zaandam in the Netherlands balances on the border between kitsch and a fairy tale painting. The architect was allegedly inspired by Monet's painting of the "Blue House". Parts of the facade are indeed blue, but also green, brown, and orange. It looks a bit like several picturesque houses stacked on top of each other. The hotel offers 160 rather sparingly furnished rooms near the center of Amsterdam.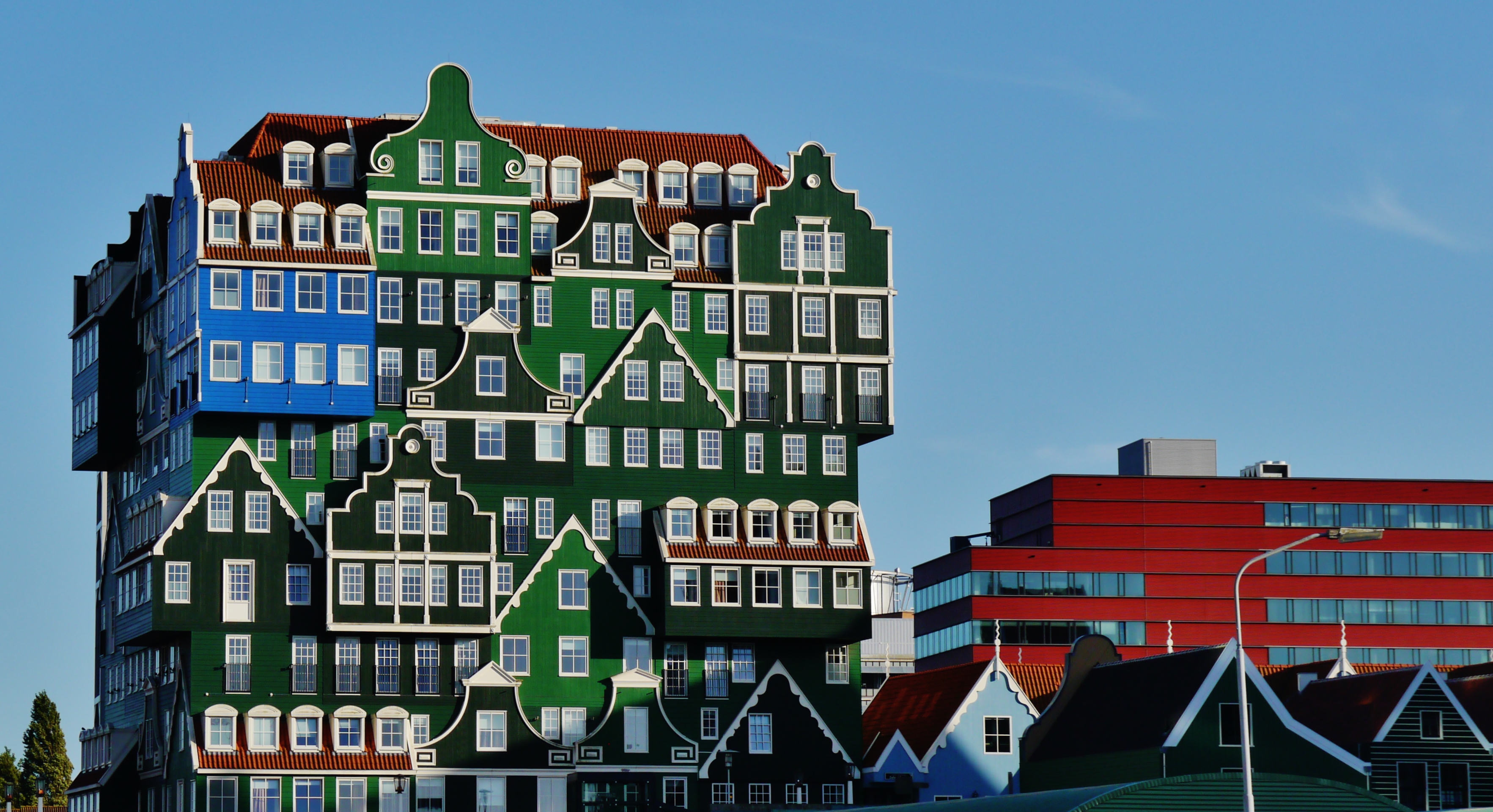 Source: https://commons.wikimedia.org/…Hotel_02.jpg, author: Zairon 
The most bizarre hotel?
The Hang Nga Hotel in Vietnam is aptly nicknamed the "Crazy House". You would search in vain for any sense of order, straight lines, or corners. The shape of the building resembles a tree, but at the same time it appears to be flowing. Everything is rounded, irregular, and unique. This is actually a complex of interconnected buildings; in addition to the hotel, this strange building also houses a café and a gallery. Part of the complex can be viewed without booking overnight accommodation. The cave-like interior is decorated with statues of exotic animals. The corridors are winding, and the stairs are steep.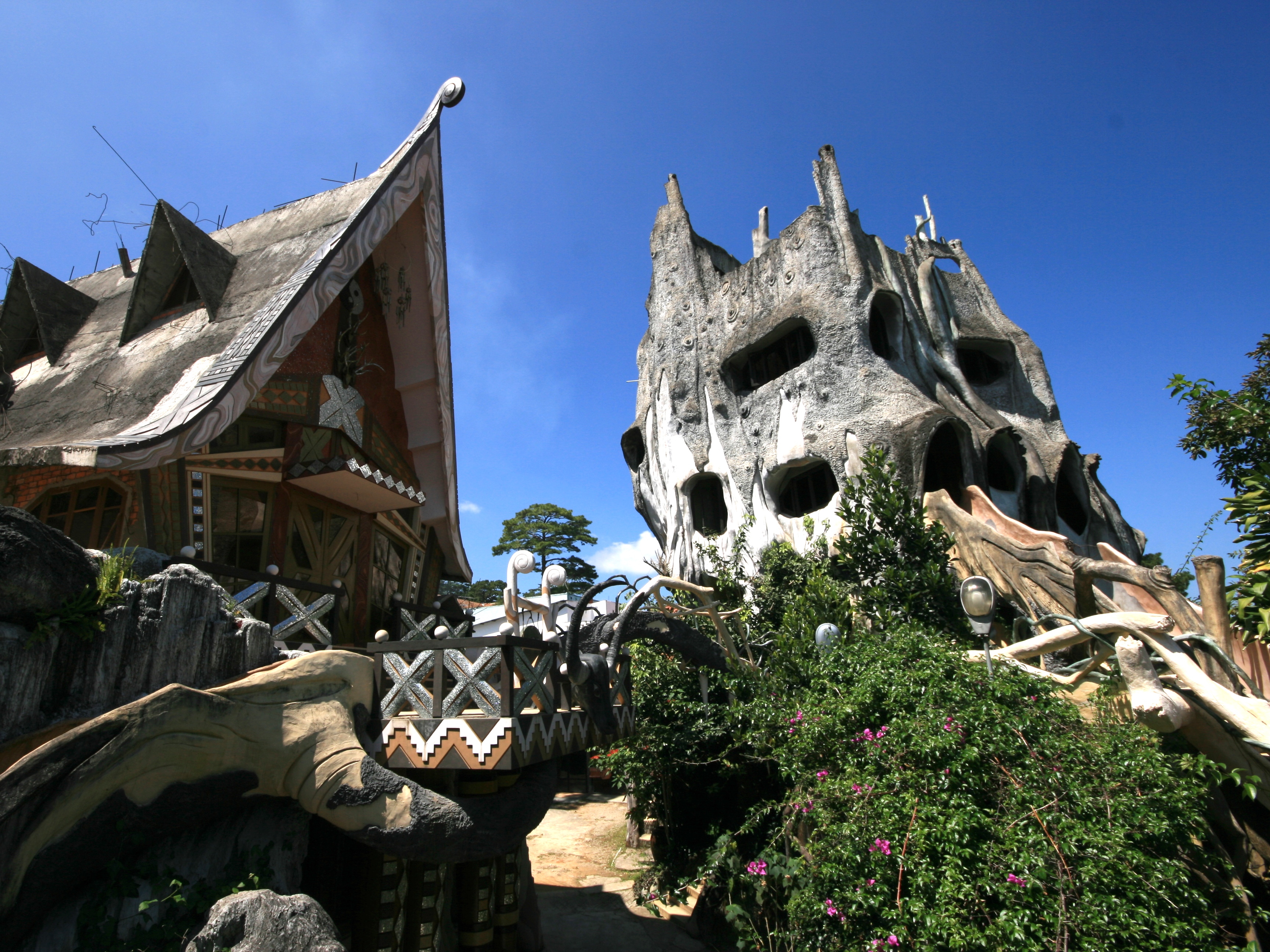 Source: https://cs.wikipedia.org/…house_03.jpg, author: Ruben
Discover a true ice kingdom
Do you like winter and snow? Ice hotels offer quite unusual accommodations. Officially, the only hotel permitted to use this designation is the Jukkasjärvi Hotel in northern Sweden, first built in 1989. It's built purely of snow and ice blocks. You even sleep on an ice bed, covered with blankets and reindeer skins. The hotel bars offer drinks exclusively in ice glasses. The hotel melts every summer and is rebuilt in the winter, with artists from all over the world taking part in the process. The artists create untraditional sculpture decorations, then around mid-November, the snow is sprayed onto the molds and allowed to freeze. The hotel then opens in stages, and guests are always welcomed into a different section from December to January, when the construction is complete and offers accommodations until about April. The hotel even provides the opportunity to get married in their original ice chapel. Watching the aurora borealis on a quiet winter night – what better way could you imagine spending a romantic wedding night?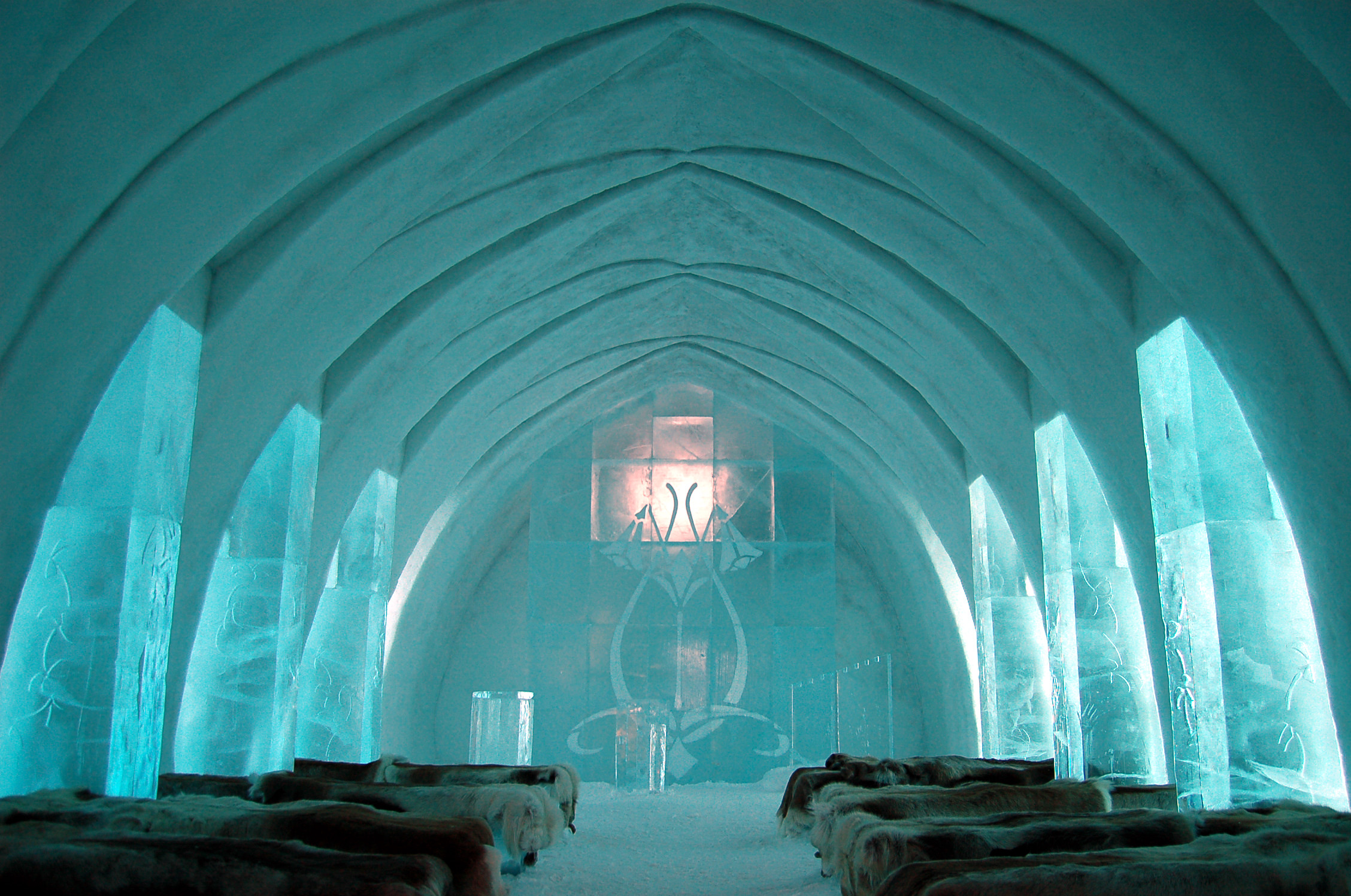 Source: https://cs.m.wikipedia.org/…C3%A4rvi.jpg, author: Bjaglin 
But the Czech Republic also offers interesting hotels. This year, how about staying in a TV transmitter or even in a wine cask?
Spend the night in a television transmitter
The unique hotel in the transmission station on Ještěd Mountain mustn't be left out. Every Czech is familiar with the trademark tower sticking out of the mountaintop above Liberec! The Ještěd transmission tower was completed in 1973 and was met with great controversy at first. The architect, Karel Hubáček, eventually won an international award for his work, and today this landmark has become an integral part of the landscape panorama. The tower's silhouette appears on the emblem of the city, region, college, and football club. The hotel and restaurant are located between the third and fifth floors. The location is a perfect hub for day trips into the surrounding nature.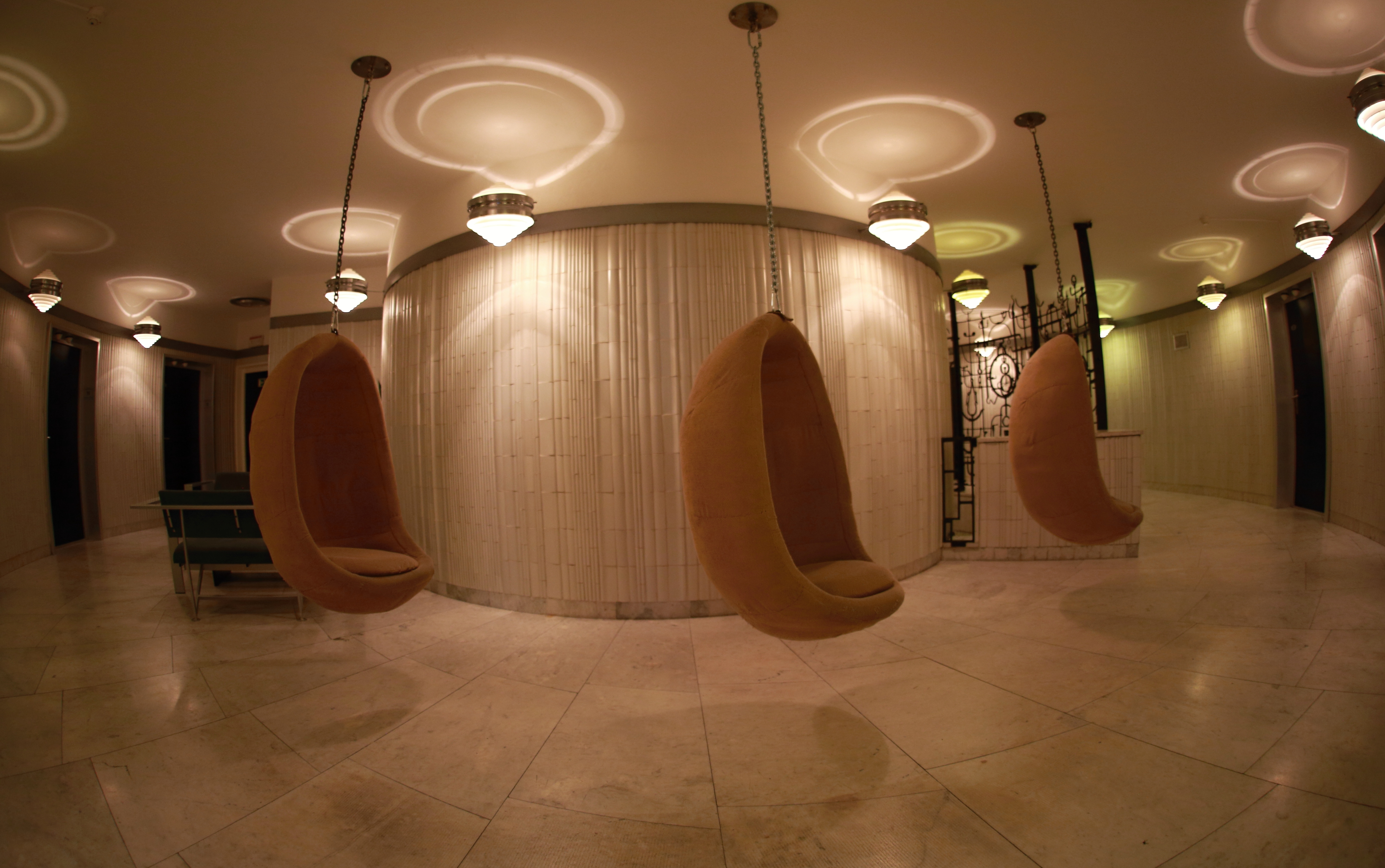 Source: https://commons.wikimedia.org/…anoramio.jpg, author: Martin Cígler 
Love wine? Sleep in a cask!
Sometimes, a luxurious experience consists of nothing more than simplicity and a unique atmosphere; such an unforgettable experience awaits you in Pálava. Situated right in the midst of the vineyard are two wooden casks with comfortable double beds. Heating and electricity, of course, are provided. There are also wooden sun loungers set outside so that you can enjoy the peace, clean air, and aroma of the vineyards. At night you can enjoy your wine and watch the stars undisturbed. How's this for an original gift for the special ones in your life? Accommodation casks can also be found in the Slovácký dvor complex and in the Jeseníky Mountains.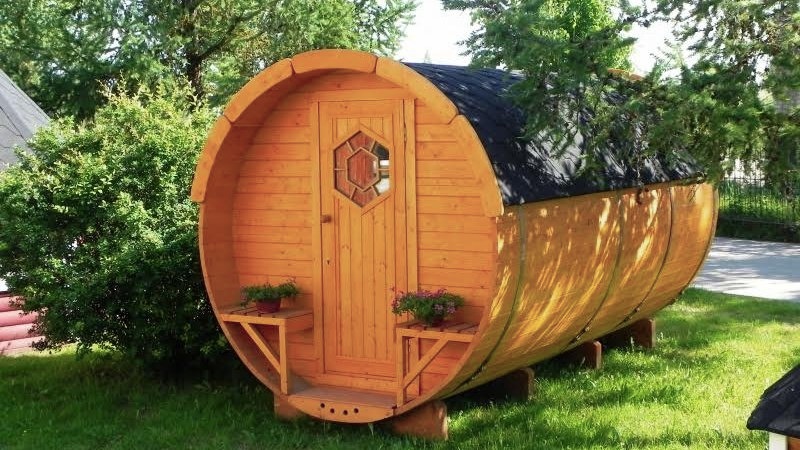 Source: https://www.slovackydvur.cz/…96967fc3.jpg, author: Hotel Slovácký dvůr (https://www.slovackydvur.cz/…ani-v-sudech)