One of the evergreen summer holidays of Czechs is definitely Croatia. Not only the beautiful beaches and natural scenery, but also the cultural and linguistic proximity and good driving distance play an important role in this. However, this picturesque country, known for its rich history, has recently attracted visitors not only for holidays but also for real estate investments. Due to the increasing demand, you will also find luxury apartments, houses and houses in Croatia in our portfolio. Plus, we'll add plenty of tips on where to go in your new second home by the sea.
Croatia has long been very popular for several reasons. Its stunning Adriatic coastline offers beautiful beaches, crystal clear seas and charming historic towns. The natural beauty of the Croatian coast combined with its rich cultural heritage attracts millions of tourists from all over the world every year.
They also enjoy the pleasant Mediterranean climate, with average summer temperatures around 30 °C. This guarantees plenty of sunny days for sunbathing on the beach or exploring the local towns and villages.
With all these factors in mind, the desire to buy a holiday property in Croatia is growing. Moreover, the offer has become more attractive with Croatia's entry into the Eurozone and the Schengen area. Be inspired by the selection of exclusive apartments and houses from our portfolio and admire all the beauty of Croatia in your own. 
A must-stop in Dubrovnik
When visiting Croatia, the steps of perhaps all history lovers lead to Dubrovnik. After all, the ancient fortified historic core, a UNESCO World Heritage Site, is breathtaking. Its stone walls, narrow streets and squares reflect the city's rich past as an important trading centre during the Middle Ages and Renaissance.
The main street, Stradun, and historic properties such as the Prince's Court and Rector's Palace are among its biggest attractions. A walk along the ramparts is also magical. Panoramic views of the azure sea, the orange rooftops of the city and the surrounding islands await you there.
Zadar - the heart of Dalmatia
But you shouldn't forget other places in Croatia that are definitely worth a visit. One of them is Zadar. The historic port city in Dalmatia offers its visitors a combination of rich cultural heritage and modern life.
Among the most interesting attractions is the sea mound known as "Morske orgulje" or Sea Organ. This unique musical instrument made of rocks and shells that create holes in the wall of the promenade allows the waves to create pleasant sounds. A walk along the seafront is a real treat when listening to a natural concert.
Another unique feature of Zadar is the famous "Salute to the Sun". This is an art installation consisting of large glass panels that react to sunlight and create a hypnotizing light show. During the evening hours, you can immerse yourself in a magical atmosphere as the coastline is transformed into a colourful palette of light.
In addition, Zadar is home to many monuments, such as the Romanesque Church of Saint Donatus, which is considered one of the most beautiful of its kind. The fortified gate of Porta Terraferma is also an interesting sight.
For those who are truly captivated by Zadar, we offer an exclusive sale of a 4 bedroom apartment in a newly built development project. This luxurious property with a total area of 240 m2 is located on the second floor of the building and includes three bedrooms with en-suite bathrooms, a spacious dressing room and an open living area with kitchen and dining room, which leads to a terrace with spectacular sea views. In addition, there is a second roof terrace with swimming pool.
The project is characterized by its superior design and attention to technical workmanship, including high sound and thermal insulation for optimal privacy. The complex is located in a quiet location near the beach in the residential area of Kozino with the possibility of pleasant walks along the sea and to the city center. The location also stands out for its easy accessibility to both Zadar and the international airport.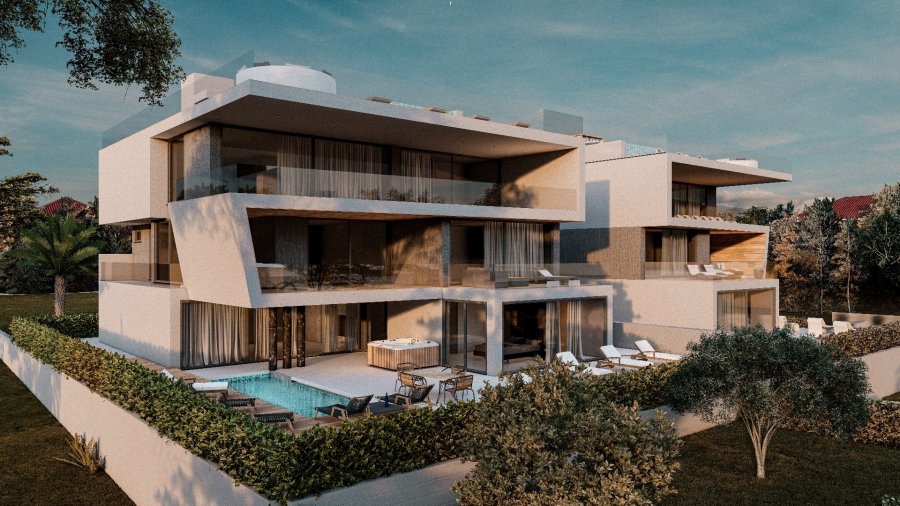 Lukoran as "Zadar in small"
If you want to enjoy a peaceful stay away from the hustle and bustle of the tourist centres, your destination should be the village of Lukoran on the island of Ugljan. This idyllic village is surrounded by beautiful nature, green olive groves, vineyards and blue sea. For lovers of nature and active relaxation, Lukoran is an ideal location to explore the surrounding beaches, cliffs and breathtaking views of the coast. The local harbour brings a sense of authenticity and is an important place for fishermen who return daily with a fresh catch. The Church of St Peter and Paul, an important monument of the village, should not be missed.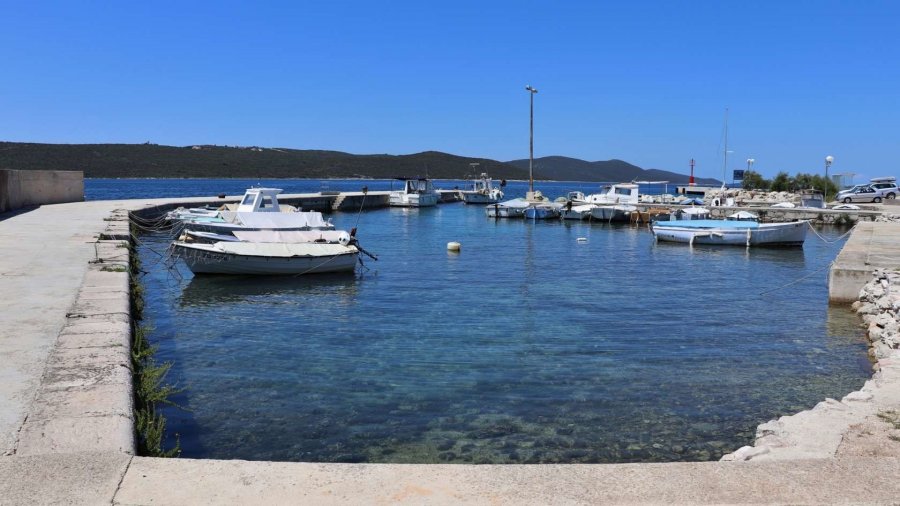 One of the greatest advantages of Lukoran is its peaceful atmosphere and the hospitality of the locals. Here you can enjoy traditional Croatian cuisine and excellent local wine, which give this place its unique character. At the same time, Lukoran is close enough to Zadar to allow you to explore the other sights of this stunning region.
In our portfolio we have a luxury villa in Lukoran of 365 m2, ideally situated on a plot of 2,197 m2 and offering breathtaking panoramic sea views. The villa has a double garage in the basement with direct access to the garden and the sea. The ground floor comprises a living area with kitchen and dining room, which is connected to a covered terrace. There are also three bedrooms, the master of which has its own bathroom, dressing room and terrace. The villa is surrounded by a large garden with olive trees and offers an outdoor covered gazebo.
Naturally, a high standard of materials and technology is provided, including a smart home system. All rooms have underfloor heating, air conditioning and electric blinds. Heating is provided by an air conditioning unit and a solid fuel stove.
Lukoran Bay is a quiet location, just 20 minutes by ferry from the centre of Zadar. The area offers clean sea and privacy without tourist traffic.
The most beautiful sunsets are over Privlaka
Among the lesser-known locations is Privlaka, located in northern Dalmatia, also near Zadar. This pleasant seaside town attracts visitors especially with its beautiful landscape and peaceful atmosphere. The coast is surrounded by azure sea and there are several beaches suitable for sunbathing, swimming and water sports. They are often covered with fine sand, making them ideal for families with children.
The historic city centre is also worth exploring, where you can find monuments such as the 12th-century St. Vid Church. Privlaka is also a great base for exploring the surrounding natural beauty. The Kornati and Krka National Parks are nearby and offer breathtaking scenery.
Privlaka is famous for its stunning sunsets, which can be admired from the promenade or from one of the cosy restaurants along the coast. The laid-back atmosphere and friendly locals create a welcoming atmosphere - you'll love walking through the narrow streets full of traditional stone houses and romantic nooks and crannies.
In Privlace we offer for sale for example a semi-detached house of 90 m2. This luxury property is located in the third row by the sea with a magnificent view. The interior has been completely renovated and has a private garden of 200 m2 with a swimming pool and fireplace.
The ground floor of the house includes a cozy living room with kitchen, bedroom, toilet and entrance hall. On the first floor there is a hallway, two bedrooms, a bathroom and a gallery. Of course there is air conditioning.
Whether you are looking for a second home or an investment in Croatia, we can help you. Our portfolio also includes a wide range of non-public, so called off market properties, if you are looking for something really special, do not hesitate to contact Veronika Pecková directly (veronika.peckova@luxent.cz, tel. 771 255 255).
We are experts in selling exclusive properties in the Czech Republic and abroad. We will be happy to provide you with a consultation online or in person at our Prague real estate office focused on luxury properties Luxent - Exclusive Properties at Pařížská 205/23, Prague 1 - Josefov.