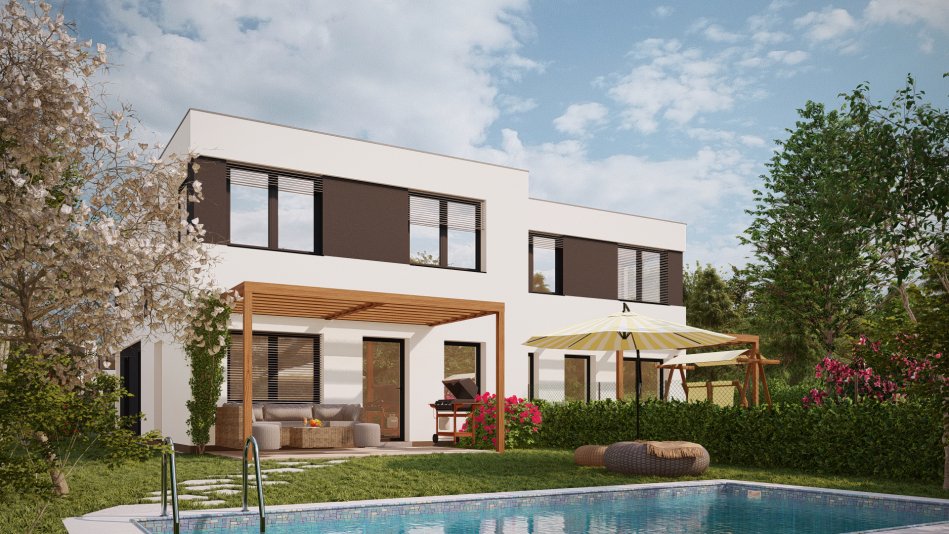 New houses for new plans
The newly emerging project of twelve family semi-detached houses near the Vltava shore is located in a quiet southeastern part of Klecany surrounded by bike paths and beautiful nature, just 25 minutes by car or public transport to the center of Prague. The chamber project of architecturally clean new buildings with its own gardens and garages is situated on a slightly sloping southern plot and with a carefully thought out concept. Each semi-detached house is separate, with its own entrance and garden. The houses are not classic terraced buildings, they are arranged in the shape of a triangle and the entrances to the individual semi-detached houses are shifted from each other to preserve the maximum privacy of their inhabitants.
Completion of the project: October / November 2020.

You can view current photos from the construction here: https://www.domyklecany.cz/…ie-ze-stavby
Comfort for you, large rooms for children and a garden for everyone
You can choose from several variants of layout (4+kt, 5+kt) to ideally suit your needs. On the ground floor there is a living room, which is divided into a relaxation and dining area with a kitchen and is directly connected to the garden terrace with a wooden pergola. Upstairs there are three spacious bedrooms and one other smaller room, which can serve as a guest room, a study or a dressing room. There is also one or two bathrooms on the floor, depending on the chosen floor plan. If you are attracted by more spacious rooms, you can choose a bedroom with an en suite bathroom. In any case, you will definitely choose from several variants which are available to you as part of client solutions.

Quality materials and equipment are the advantages of houses in Klecany. You can choose from a range of several types of wooden floors and large-format ceramic tiles in the hallway or bathrooms. In the living room there is preparation for the kitchen, in all rooms except the study there is a preparation for air conditioning units. The bathrooms are furnished by Los Kachlos, where you can choose an alternative solution (according to the choice of the house). Each of the semi-detached houses is heated by a modern gas condensing boiler with high efficiency, heat distribution by underfloor heating and radiators. Water heating by a combined boiler with a 125 l tank. All semi-detached houses are made of Porotherm ceramic masonry with reinforced concrete solid ceilings with ceilings and a certified Baumit thermal insulation system. Windows with insulating triple glazing are equipped with external electric blinds with aluminum slats. The houses are very economical – energy class B.

Garden – ⁠for a pleasant breakfast, barbecue with friends and moments of peace and relaxation
The price of each house includes a landscaped garden with a terrace and a wooden pergola with preparation for an electrically operated awning. On the terrace there are a large format vitrified ceramic tiles in imitation of natural stone or cement trowel and together with the garden it offers an ideal place for your rest and meeting with family or friends. You can conveniently place a sitting furniture or a barbecue here. Thanks to the well-thought-out architecture and frontloading of one of the halves of the house you'll have plenty of privacy. How to set up a garden is entirely up to you. An architect's suggestions for the possible future location of swimming pools can help you.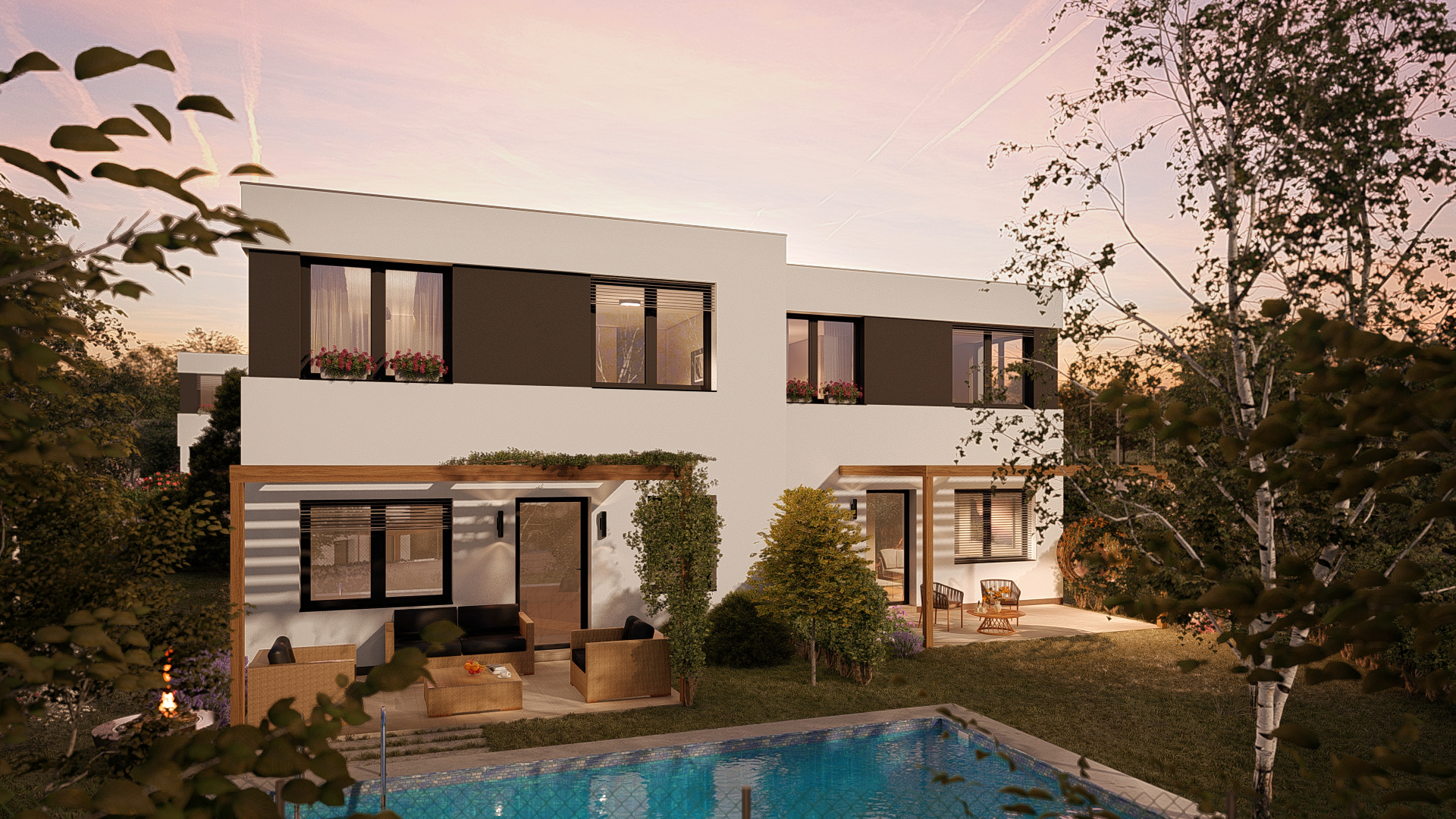 Economical new buildings with functional architecture
The architecture of the houses is simple and traditional, using modern materials and systems. Thanks to the variability of layouts, they can be comfortably occupied by a large family with three children or a smaller family in need of a home office. They always provide enough privacy and a comfortable place to meet, whether in the wider circle of family or with friends, especially thanks to the pleasant connection of the house with the garden. The house is above standard thermally insulated, including the roof, thanks to which it excellently resists summer overheating and winter cold and has above-standard acoustic properties. There are one or two parking spaces in front of the houses and each house is equipped with a spacious garage, in which it will be possible to place, for example, bicycles, winter tires or garden tools in addition to parking.

For those who appreciate easy access to Prague, nature and walks
The Klecany Houses – V Remízkách project is located near the Vltava River and adjacent trails that will take you along meanders and beautiful natural monuments – whether on foot, in-line or by bike. There is a port and the historic ferry Klecánky – Roztoky, connecting Klecany with the left bank and Prague 6. In the immediate vicinity, on the southern border of the project, there is a natural spring. In the neighborhood there is a kindergarten and school and sports grounds. Nearby there is a suburban bus stop, which can take you to the Kobylisy metro station in about 15 minutes. Overall, the location is perfectly accessible and the city of Klecany is well equipped. Cyclists, recreational athletes and hikers can use the beautiful newly built Povltavím cycle path. Klecany offers everyone several famous restaurants and the possibility of pleasant sitting and refreshments right by the river. The Troja Botanical Garden and the Prague Zoo are just 8 km away along the river.