The luxury segment, comprising unusual properties in prestigious locations, forms a distinctive part of the residential market. And it has its own special requirements. Properties that are the focus of our real estate agency Luxent - Exclusive Properties require professional brokers with perfect knowledge of the specifics of this market. They will now take you on an excursion into the world of exclusive real estate with a few selected, untouched gems!


In our geographic conditions, the adjective "luxury" used to mean anything expensive, which made its value and uniqueness obvious. "Fortunately, it seems that the times when the expression of luxury were buildings that were ostentatious, demonstrating the wealth and often the tastelessness of the owner, are gone. As Czech society moves on, becomes richer and gains experience from other parts of the world, ideas about architecture, building, the way of living and the needs of life in general are also changing. And so the view of what is truly luxurious in the sense of unique and exceptional is also changing. Relative to real estate, we do not expect any innovations - the key values are mainly the location, architecture and thoughtfulness of the building, the quality of the materials used and their processing or the solution of technology. Equally important is the micro-locality, i.e. the immediate surroundings, which have a major impact on the quality of use of the property. This includes factors such as neighbours, type of development, traffic load parameters, noise, emissions, etc.," explains Jiří Kučera, director of Luxent - Exclusive Properties.
When it comes to financing these properties, the more expensive it is, the more likely it is to be bought without a loan. There is a clear tendency for buyers to save cash in real estate: in the higher segment, according to our data, the share of purchases financed with a mortgage is only 10 to 15%. The share of investment purchases generally exceeds 30%; however, this value varies depending on the type of property.
Now you can take a look at some truly exclusive properties with us!
With a unique genius loci and a touch of history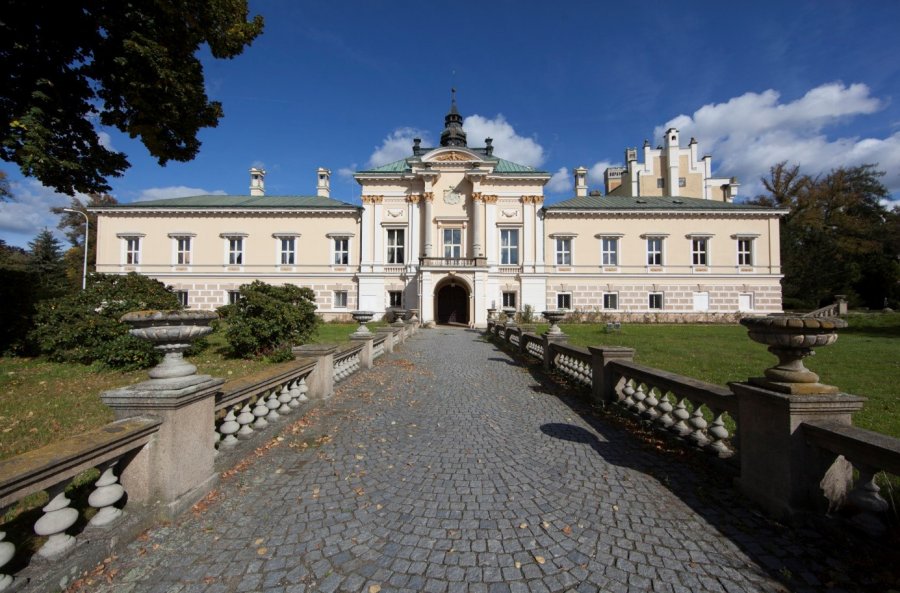 Photo: Castle in Světlá nad Sázavou
One of them is the castle in Světlá nad Sázavou in the landscape of the Bohemian-Moravian Highlands from the end of the 14th century. The complex, about 100 km from Prague, today offers 5,500 m2 of usable space on two floors and together with the adjacent English park with a cascade of ponds and bridges with an area of about 16,000 m2 forms a dominant feature of the locality. It received an Honorable Mention from the professional community for its significant contribution to tangible cultural heritage in 2020, specifically for its overall restoration and revitalization. "In addition to the two unique tour routes of the Exposition of Historical European Glass, as well as the Exposition of Historical Clocks, Baroque Paintings, Polychrome Sculptures and Figurative Porcelain, there are permanent and seasonal exhibitions," says broker Lenka Munter, adding: "The current owners also rent out the chateau's premises for concerts, weddings, small and large celebrations and music festivals, making it a key cultural centre for the region." You will appreciate this building with 650 years of history especially for its versatile potential - you can build here a refined hotel with wellness and restaurant, a rehabilitation centre or just a private family residence with limited operation of a part of the castle according to your wishes.
The water tower in Prague-Libeň will also provide you with unconventional living. The technical monument from 1904 was converted into a unique 3 bedroom apartment of 223 m2. On the plot of 1,268 m2 lies, among other things, an underground relaxation center with a prepared space for a swimming pool and sauna, including a wine cellar with a vaulted ceiling and a garage for 8 cars. In the duplex living area located in the newly built tambour of the tower, you will surely love the unique panoramic 360° view of the whole of Prague. "This is a very specific exclusive property that will become a unique challenge for you. The meticulously prepared rough construction offers a unique architectural design that invites original interior design. The location also guarantees excellent civic amenities and transport accessibility," says broker Pavla Kalousová.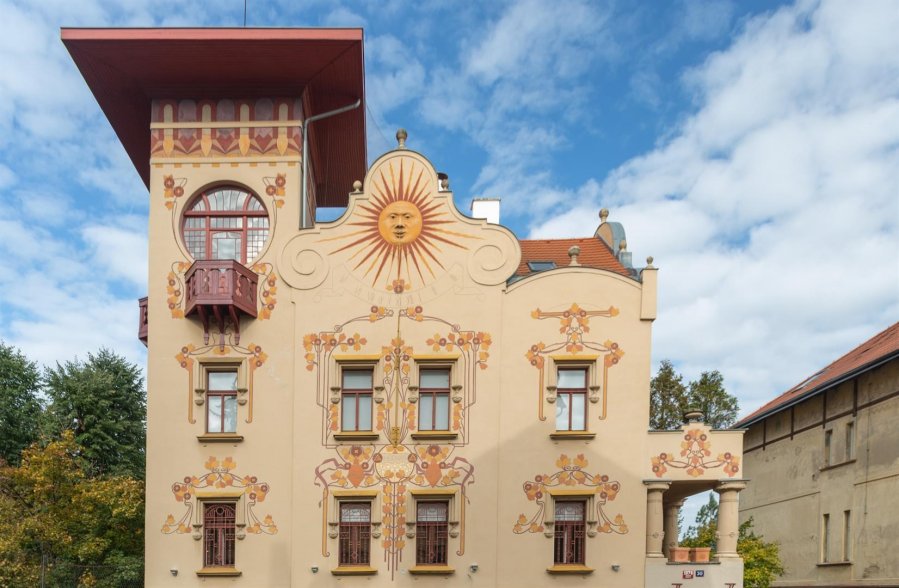 Photo: Art Nouveau villa Helenka, Prague 5
A unique historical property for sale is also the Art Nouveau villa Helenka. It was built in Prague's Malvazinky district by architect Alois Korda in 1903 for his own use. Painter František Kobliha took care of the decoration of the facade with floral patterns and sundial. Today, on a usable area of 715 m2 on five floors you will find a total of twenty originally designed rooms, in the attic there is a luxurious duplex with a terrace and a designer interior. The iconic tower with its full moon windows and flat roof houses the study. "One of the gems of our portfolio, the Art Nouveau Villa Helenka is unique not only in its architecture but also in its multifunctionality. It is suitable for residential as well as commercial use, serving for example as a company headquarters or a design hotel," says broker Šárka Tichá, adding, "This is a truly unique opportunity, as luxury villas for sale in this location are rarely available. This building is also considered part of the Czech cultural heritage."
The popular properties also include First Republic villa for sale near Prague, which was used by the Prague elite as summer residence. A sensitively reconstructed house from 1926, 226 m2 in size, is standing on a rock by the Sázava River in the village of Chocerady. It is characterised, for example, by its well-made or restored joinery elements or the classical stove in the dining room.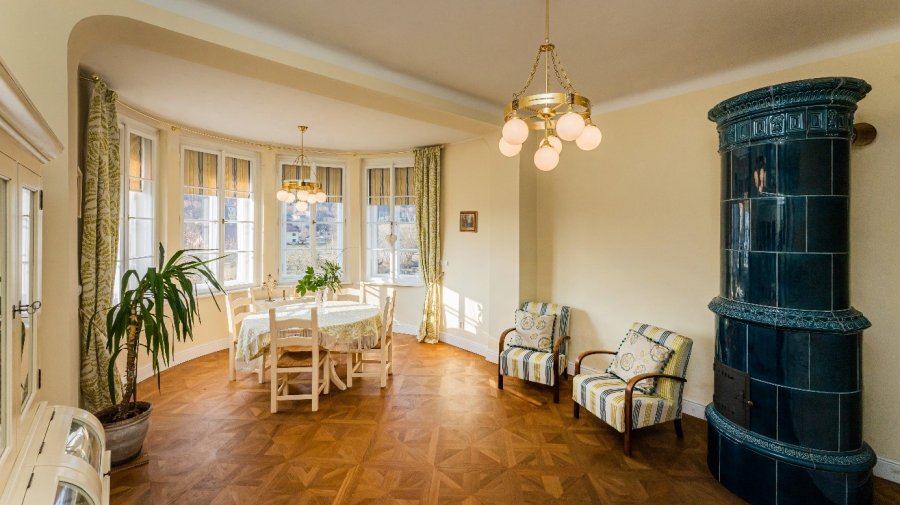 Photo: First Republic villa near Prague, Chocerady
As far as historic properties are concerned, they represent a truly unique part of the real estate market, according to the director of the real estate agency Luxent - Exclusive Properties, "By their very nature, they are unique objects that require a specific approach of the owner and large investments. But in return, they usually provide a unique location and the feelings and experiences associated with history. Often buyers are also pleased that they are contributing to the preservation of a cultural asset by caring for it. Owners of historic properties usually have a strong attachment to them and the decision to sell is therefore often a painful one. So they are usually very concerned about who becomes the new owner. The mediation of the sale of monuments is in itself complicated also in terms of the requirements for orientation in the field of conservation and preservation. Our brokers have, among other things, a deep knowledge of history and art, which allows them to better communicate with those interested in this type of property."
For relaxation and beyond the borders
According to Jiří Kučera, the demand for specific properties has been growing recently: "More and more people are investing in properties that are unique, irreplaceable and cannot be replicated. It's a very diverse mix of properties: from first-republic villas with matching gardens in prestigious neighbourhoods to cottages in the countryside with beautiful views to technical and historical monuments. Other properties often in demand are properties suitable for second homes."
The interest in holiday housing that began last year continues this year and according to experts from Luxent - Exclusive Properties, this increased demand will not leave us easily. The primary motive of the current buyers is to use it for their own needs. They want to own a property outside the city where they can come at any time and live fully for virtually any length of time.
An example of such a building is a listed timbered house from the late 19th century in Velká Úpa. The property of 300 m2 includes a plot of 3 166 m2. And if you do not desire a historical building, you can get a luxurious modern second home in the new development project Molo Lipno Resort right on the shore of Lake Lipno! The complex, which will be dominated by a 150-metre-long wooden pier with a heated swimming pool, will offer 87 exclusive apartments and penthouses and the premium services of a five-star hotel.
Increasingly, however, Czechs are also looking for luxury properties abroad. Popular destinations include mainly seaside resorts, led by Spain or the United Arab Emirates. Luxent - Exclusive Properties real estate agency in these areas offers, for example, a 4 bedroom penthouse with a total area of 710 m2 located on the top floor of the Sky Villa - Malaga residential complex in Spain. Sea and mountain views can be enjoyed from the glass terrace with private hot tub!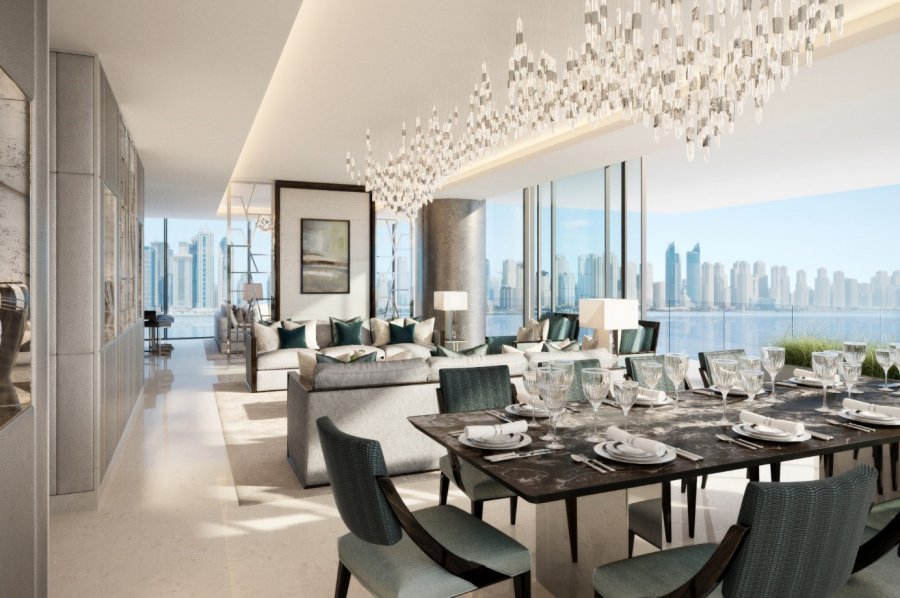 Photo: Luxury apartment in One Palm project, Dubai
We are also selling second homes from 400 sqm with high loft-style ceilings in the One Palm project under construction on the Palm Jumeirah island in Dubai. In addition to the residence's superior amenities, which include a garden, private beach, several swimming pools, spa and fitness centres, cinema and private yacht pier, a wide range of leisure activities in the vicinity, such as diving, golf course or water park, will ensure your active relaxation.
Of course, you will also find other gems in our portfolio, such as unique family villas or the most luxurious apartments in Prague - we will be happy to introduce them to you personally over a cup of coffee or tea in our Luxent - Exclusive Properties office at Pařížská 28, Prague 1!