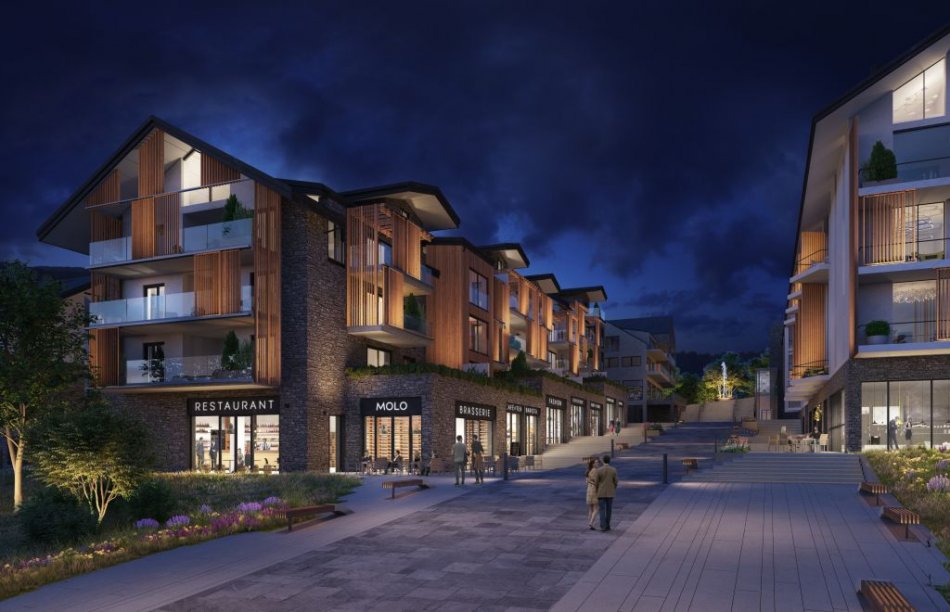 Also this year we have nominated the three most interesting projects from our offer: a residential project Na Meandru, a residential project Viladům Děvín in Smíchov and a luxury residential project MOLO Lipno Resort in Lipno nad Vltavou.
Read more and vote for your favorite project! You can also vote for more than one project.
Na Meandru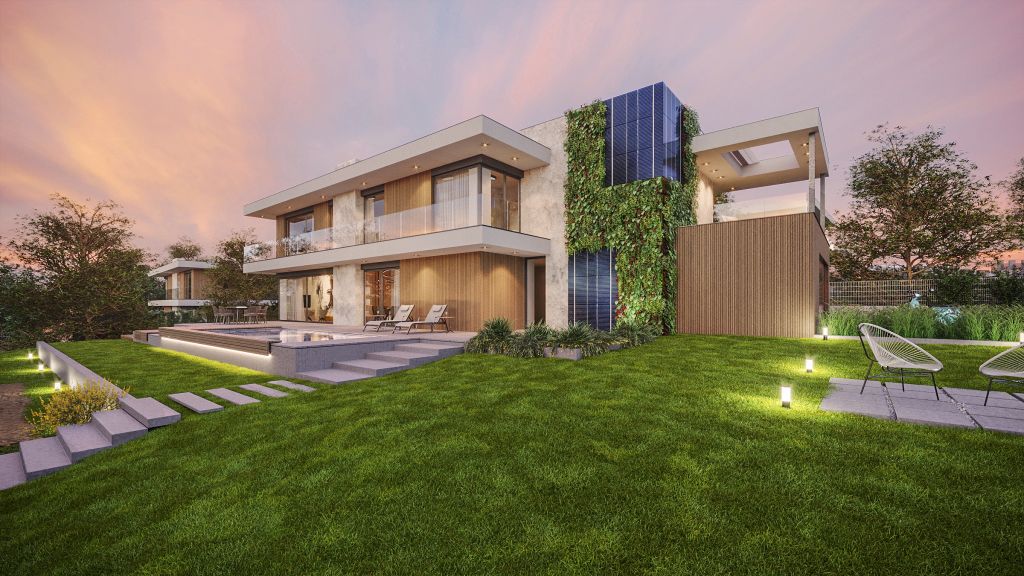 On the sunny slope Na Meandru nad Vltavou grows 15 modern low-cost villas with advanced energy. The project aims to create a beautiful and healthy living, largely independent of external energy suppliers, except natural ones. Massive lighting, organic connection to the garden and work with sunshine beautify the pleasant atmosphere and practicality of disposition 4+kt – 6+kt completed with saunas, relaxation room with green partially walkable roof, storage space, dressing rooms, glass landing, utility room, and several bathrooms. The interiors are designed in a variety of ways in Prague's three design and architectural studios to create a living that connects life in the house and the garden both sensationally and practically. Villas are offered in four size levels and at different price levels. They will be equipped to a large extent according to the requirements of the future owners with the possibility of choosing different types of equipment, color tuning or for example, variants of swimming pools, garden architecture, etc. A pleasant and useful aspect is the noticeable low cost. The villas are equipped with intelligently controlled technologies to provide electricity, heat in the winter and cooling in the summer on hot days. Independence and low cost are ensured by dual synergistically linked and user-friendly solar technology, including home storage combined with ground-to-water heat pumps. Management of rainwater and wastewater, including the use of waste heat, has been taken into account.
MOLO Lipno Resort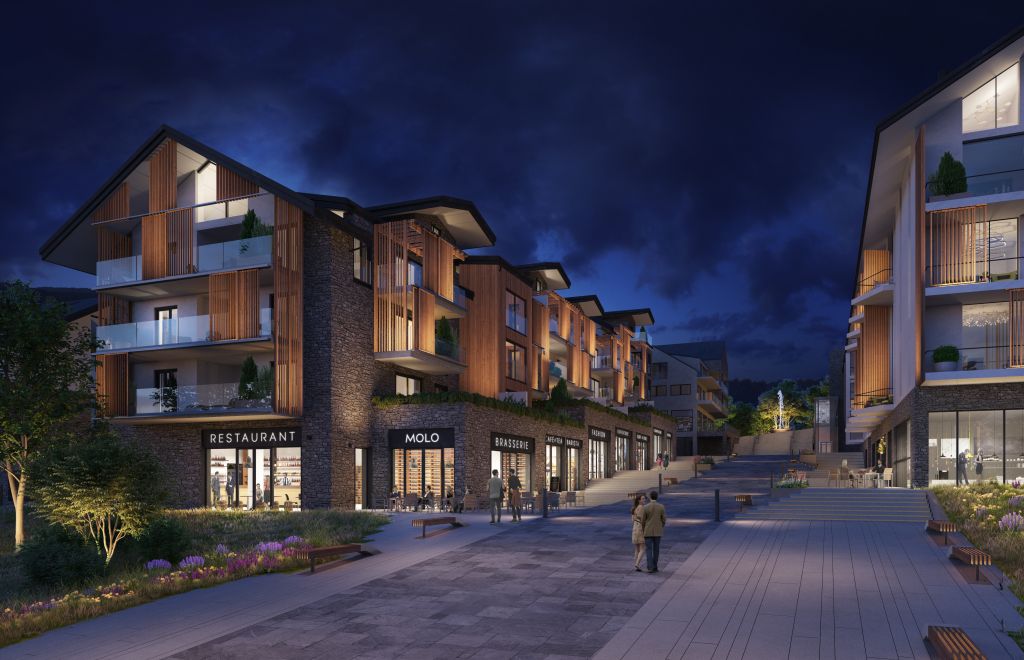 This luxury apartment complex with a private garden and pier is built in one of the most attractive locations surrounded by the Šumava nature, right on the bank of Lipno. The project with current free units can be seen in our offer. MOLO Lipno Resort emphasizes quality, luxury, and comfort. It will be ideal for lovers of natural living and recreation, offering romantic panoramic views of the lake and nearby forests. Get a second home on the bank of Lipno, a place that offers exceptional architecture and a five-star standard in every detail. 79 exclusive apartments and penthouses with breathtaking views of the lake panorama or the manicured atrium garden are offered in a quality comparable to the world's highest standards. In addition to luxury apartments, the complex will also offer a five-star hotel with premium wellness and spa, a restaurant with international cuisine, bars, concierge services, and a private beach club. Residents will also be able to rent sports equipment. There will be a promenade with shops and cafes between the hotel and the luxury apartments, which will continue to the cycle path. The iconic 150 meter-long wooden pier with a heated pool and filtered water will dominate the resort.
Viladům Děvín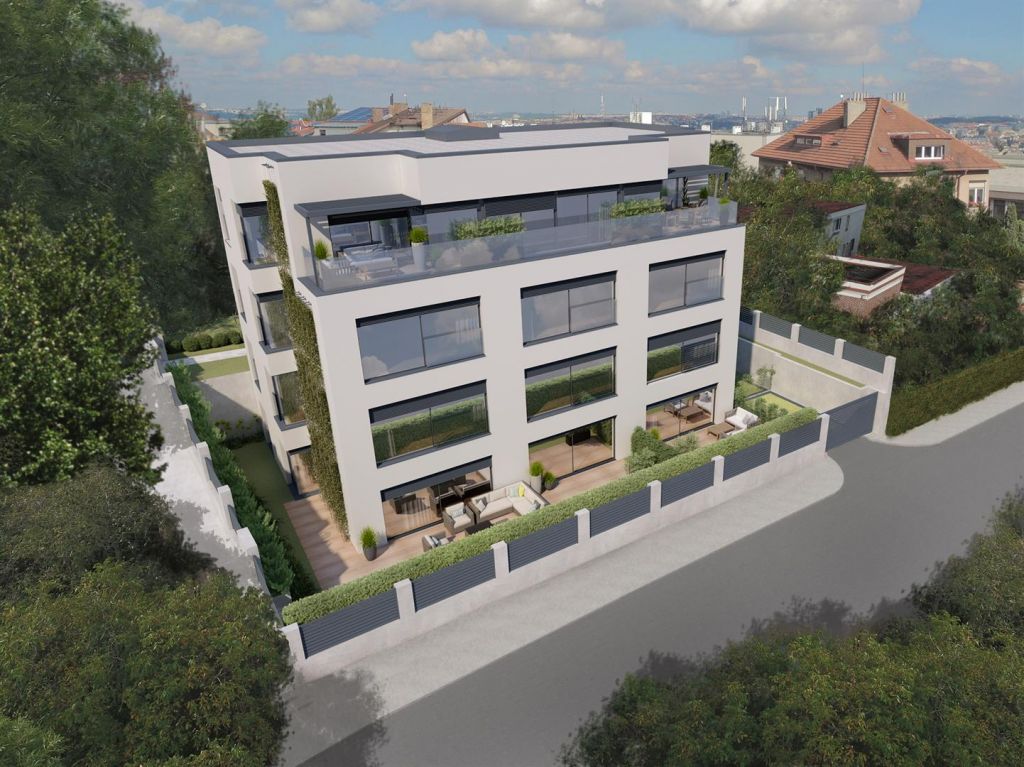 The development project Viladům Děvín was built in the street K Závěrce in a residential area near Dívčí hrady. They also became an inspiration for the name of the project. In a four-storey villa with underground parking, 8 luxury apartments with terraces and gardens are being built. The residence is intimate and offers privacy to apartment owners with up to three apartments on each floor. The size and layout of the apartments are popular because of their composition, offering family design apartments with garden and terrace, spacious 3+kt and more intensive apartments for demanding clients. On the top floor of the Villa is a luxury loft apartment with terraces, exclusive panoramic views and two parking spaces on the underground floor of the house. The design and project of the house in a modern, lighted, functionalist style were created by the architects of the renowned Masák & Partner architectural office. The design of the apartments was designed by La Design studio for luxury living design. The concept is inspired by elements of the First Republic villas, especially in the area of ​​used high-quality materials and equipment. Solid wood floors complement perfectly with large-format tiles, luxurious bathrooms with marble décor, and the overall brightness of south-facing apartments. The offer also includes advanced cooling ceilings, automatically controlled outdoor blinds or a stylish kitchen. All apartments have an original, timeless atmosphere thanks to the location and the view from the large-format living room windows forming glass walls and opening up space far beyond the interior layout.