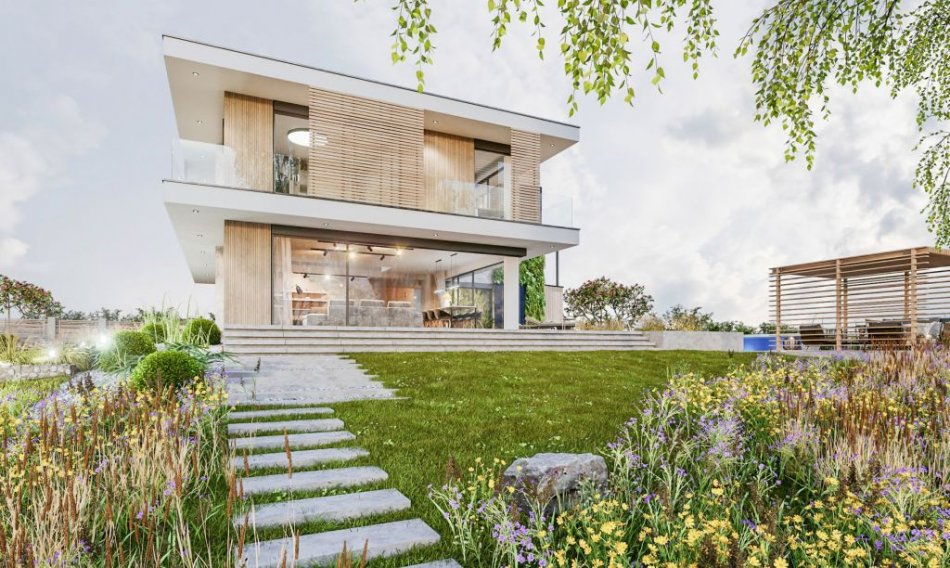 Are you a fan of green households and are you looking for inspiration that will help you improve your existing housing? Then you will surely enjoy these current trends that will make your household both eco-friendly and economical. We will talk about solar panels, heat pumps, cooling ceilings and others.
Every year we are presented with news in the area of ​​housing, which inform us about current trends. And while these trends are changing rapidly, one of them has persisted for many years. What is it about? The hit of recent years is undoubtedly a green household. Czechs are more interested in ecological housing than ever before.
Czechs and ecology
According to last year's Ipso survey, the attitude of Czechs to ecology has changed significantly in the last ten years. More and more people support waste sorting and 90% of households try to save electricity, gas and water. There are many ways to achieve this savings – from more careful energy management to the replacement of energy-intensive appliances. There are also special technologies and equipments that will support this concept.
TOP eco-friendly technology for a smart and economical home
Solar Panels
Solar panels are currently experiencing a big boom – says the International Energy Association (IEA), which claims, among other things, that interest in solar energy is growing even faster than other renewable sources. Global solar capacity is projected to triple by 2022.
Why are solar panels so popular? The first of these aspects is undoubtedly a great energy saving. The panel simply handles the conversion of solar radiation into electricity, which not only provides households with a decent source of energy, but also less reliance on external suppliers. Other advantages of solar panels include their long lifetime and ever lower purchase price.
Heat pumps
Another hit of eco households are also heat pumps, which represent ecological and economical heating of family houses and in some cases also of company buildings.
Their use depends on the energy source from which they take the heat – for example, land, air or water, which the pumps effectively convert into energy. Unlike other heat sources such as electricity or gas, a heat pump saves more than half the heating costs. This makes the alternative a great strategic step for many households.
Energy-efficient lighting


Classic light bulbs? They have been taboo in eco households for a long time. On the other hand, LED energy-saving bulbs can be installed in any type of lighting. In addition to light bulbs, LED ceiling lights are also modern today, which are suitable for lighting larger areas, such as kitchens or living rooms.
If you own the above-mentioned solar panels, you can easily create energy-efficient lighting. A popular solution is, for example, a built-in solar LED luminaire with a built-in motion sensor that draws energy directly from the solar panels or their batteries. It's simple, practical and trendy!
Air curtains
Unpleasant draft and unnecessary ventilation – when opening the entrance door, we simply do not avoid it. In such situations, however, we get home cold, or, on the contrary, escapes accumulated heat. What to do about it? Customized air curtains are a great solution and a trend in recent years.
They are simply installed in any door or gate – ideally where there is the highest risk of drafts. There, the air curtains not only help to keep the heat / cold inside the room, but also ensure that pollen and other substances flying in the air do not penetrate inside.
Cooling ceilings


Although air conditioning performs the function of cooling quite well, there is already much more sophisticated technology on the market, which is extraordinarily ecological. We are talking about heating-cooling ceiling constructions. How do they actually work?
In the installed climate wall, cold water circulates, which spontaneously maintains a comfortable room temperature, even when outside temperatures are high. Operation is quiet, comfortable and without the risk of drafts and dust. What's more, cooling ceilings can also be used for heating, which in turn will save households up to 40 % on heating costs.
Luxury projects in Prague and its surroundings that set an example for green households
New modern development project Na Meandru
In Prague and its surroundings, we could find many unique new buildings that perfectly follow the green household trends. Luxury villas Na Meandru will surprise you both with its unique appearance and sophisticated eco technologies. The main goal of the developers here was to create not only beautiful housing, but also to fully prepare the houses for ecological and self-sufficient operation.
The Na Meandru villas have both solar panels and a ground-water heat pump. These intelligent technologies allow villas on the sunny side to be up to eight months independent of external suppliers.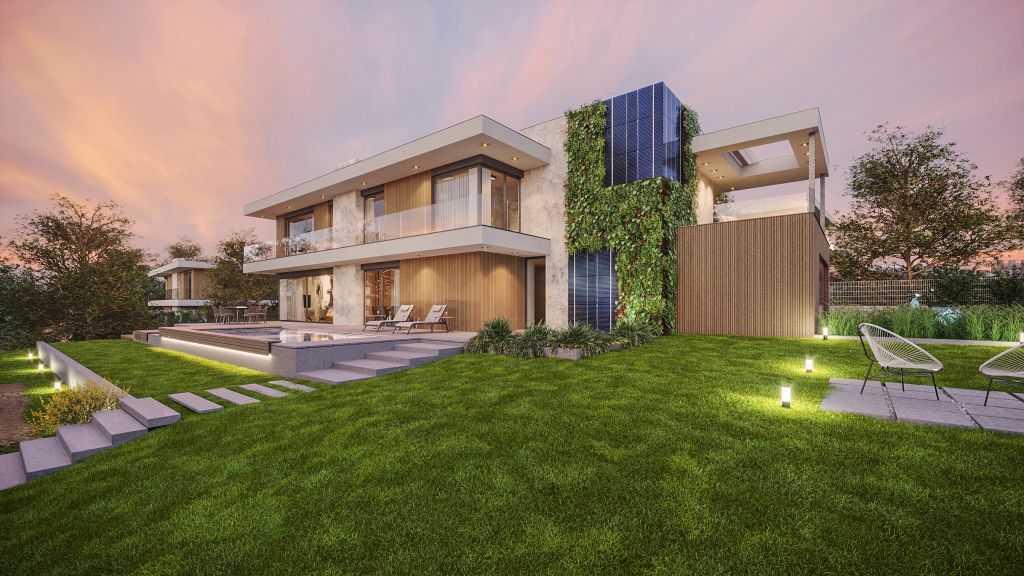 Development project Viladům Děvín
Among other development projects that meet the parameters of a green household is also this uniquely reconstructed Viladům Děvín. This magnificent residence is located near the residential area below Dívčí hrady, from which its name is also derived. The architects were inspired by the appearance of the First Republic villas, especially in the use of quality materials including solid wood floors and large-format tiles. This unique historical character contrasts perfectly with the installed cooling ceilings, which are an environmentally friendly and economical form of air conditioning that allows gentle heating in winter.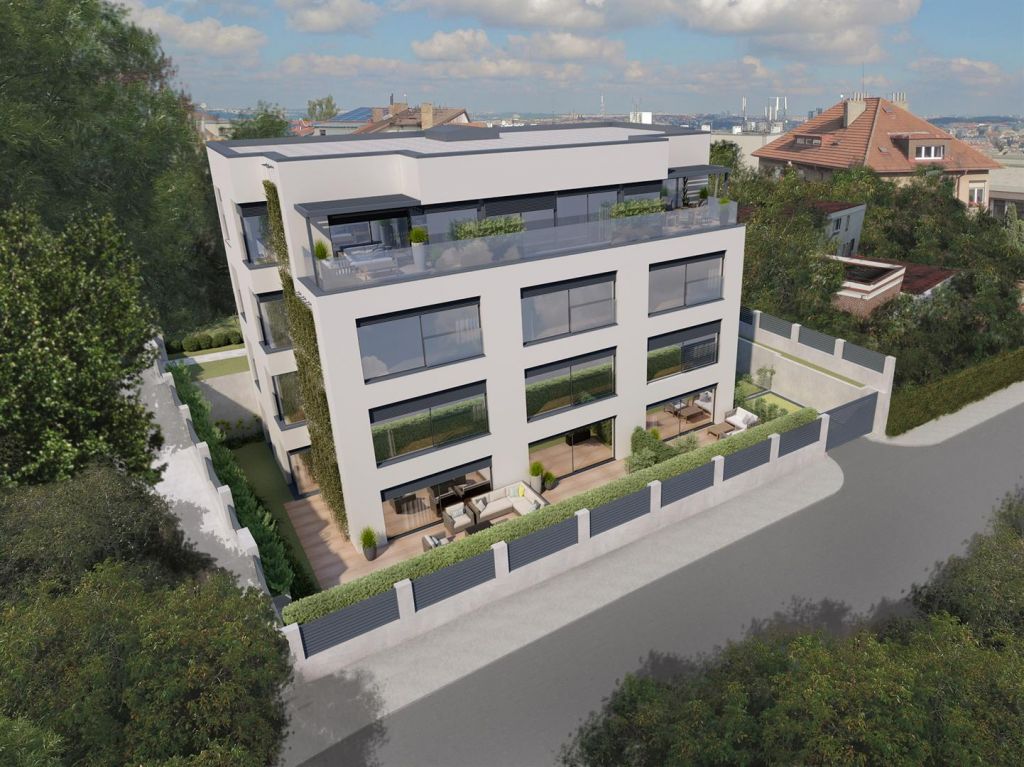 An ecological and economical household does not necessarily have to be mutually exclusive – the truth is that in many cases it forms a harmonious duo that complements perfectly. Owners of these homes can then enjoy appliances and technologies that are environmentally friendly and also bring great savings of money – simply a win-win situation.