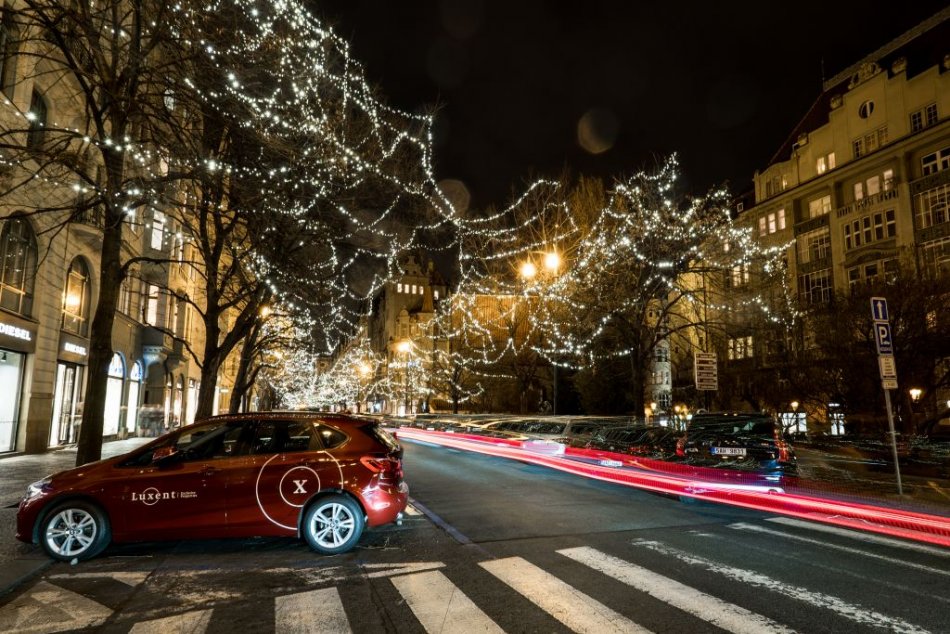 The iconic Pařížská Street in the center of Prague is well known to all admirers of luxury and quality goods. Located by the Old Town Square, it will take you through exclusive boutiques with world-leading brands up to the Svatopluk Čech Bridge.
Why The Name Pařížská Street?
Pařížská = Parisian. Paris has been considered the capital of fashion for many decades. World-class personalities like Christian Dior, Christian Lacroix, Coco Chanel, Yves Saint-Laurent and Christian Louboutin know the world. It is no coincidence that the roots of the fashion world, bold designs and extravagant models, are from there.
Most fashionable houses can be found on the famous Champs-Élysées – the most lucrative two-kilometer boulevard, the top of the Arc de Triomphe is lined with luxury shops and top cafes. At the bottom, there is the park and the Elysee Palace, which is the residence of French presidents. The Czech Pařížská Street is much younger. It was built at the turn of the 20th century just like the Champs-Élysées, and is not far from the atmosphere of the famous French boulevard, although it is only 500 metres long.
Historical Houses And Shiny Shop Windows
Facades of beautiful old buildings lined with tall trees in the historic center of Prague, in contrast to the latest models behind shiny shop windows, will catch your eye. As you walk through this world famous street you will also notice the Old-New Synagogue, one of the oldest in Europe. Due to its unique appearance and history dating back to the 13th century, it attracts the curious eyes of local residents and tourists.
The synagogue and adjacent Jewish monuments together with luxury boutiques create an unprecedented combination that you will surely fall in love at first sight. In addition to the unique historical landmarks you will also find many shopping opportunities. You can find everything from luxury clothing to stylish jewelry, watches and fancy fashion accessories to exclusive cafes, restaurants and services.
No wonder it is one of the most expensive streets in Central and Eastern Europe, where the monthly rent can climb up to € 220 per sqm. Nevertheless, world-class brands are fight for each unit and every year more luxury shops are opened here. Last year there were added new boutiques such as Céline, Philipp Plein, Valentino, Furla, Elisabetta Franchi, Brunello Cucinelli or Hogan. In recent years, neighboring streets have been gaining in lucrativity, complementing and expanding the offer of Pařížská thanks to exclusive goods.
The most prestigious streets around Pařížská include Na Příkopě or Široká streets leading around the Church of the Holy Spirit and the monument of Franz Kafka, which support the historical touch. The almost four meters high memorial by sculptor Jaroslav Rona is a unique work referring to the great Czech literature, whose remembrance on Široká Street fits beautifully with other historical monuments such as the beautiful Spanish Synagogue. Thanks to its unique surroundings, the prestigious impression of Pařížská Street becomes even more serious.
World Brands Have Won Prague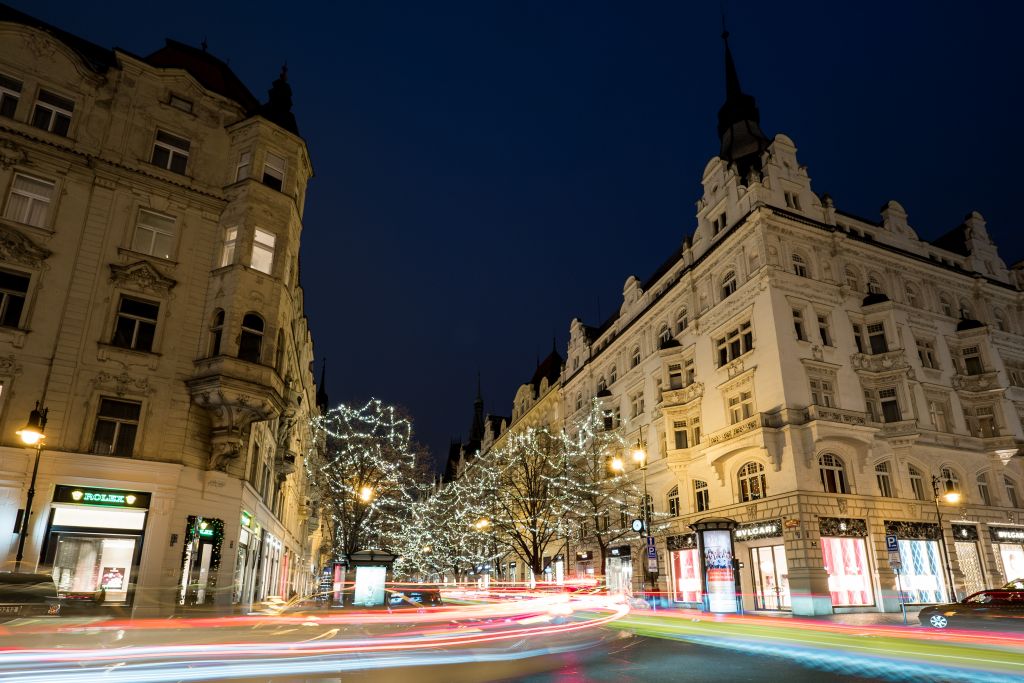 Wondering which of the popular brands can be found in Pařížská Street? You will find iconic showcases and interiors of dozens of luxury boutiques, which are a paradise for shopping lovers. Let's take a look at a selection of the most popular boutiques.
If you are looking for luxury clothes, then stop by Christian Dior, whose tradition dates back to 1946. A year later, Dior brought his brand to the top of the first collection of "New Look", which finally allowed the reputation for luxury goods to become widely known. Since then, the original Parisian enterprise has been expanded to 15 other countries, where it pleases those with weakness for quality and luxury goods – so it must not be missing on Pařížská Street.
But Christian Dior's boutique is only a fraction of what Pařížská Street has to offer. The Dolce & Gabbana store, which was created thanks to two young Italian gentlemen who have always dreamed of their own business, enjoys the same amount of success. Their dreams have not only come true, but have also surpassed their expectations – thanks to the booming business, they have managed to expand their business worldwide and earn fabulous sums of more than billions of euros with their 83 boutiques.)
The phenomenon in the form of two entwined Gs, which symbolize quality, beauty and style, must not be missing in this locality. The ever-increasing level of prestige put Gucci on top, bringing billions of profits and great customer favor. Who wouldn't know the most famous Envy perfume or Genius Jeans over $ 3,000 worth of Guinness World Records?
The French brand Hermès, which has gained a prestigious position in the fashion world over decades, clearly enjoys a position in the limelight. This brand has won the hearts of customers right from the start by selling beautiful silk scarves and high-quality handbags. Nowadays there seems to be no woman who does not want their luxury products.
Its iconic Asian fashion brand is also represented, thanks to the creation of a Malaysian designer named Jimmy Choo. The clever young shoemaker was so adept at his craft that he got on the eight pages of Vogue thanks to his exclusive shoe production. In addition to luxury shoes, you can also find quality handbags, belts or perfumes in the boutique that you will love.
Equally important brand of Pařížská St. is Salvatore Ferragamo – a company from 1927 named after the founder, who excelled in the production of exclusive shoes. Young Salvator's business only flourished, so the production expanded to include leather goods, graceful accessories and intoxicating perfumes, which tastefully complement the boutique range.
When it comes to creating gentle elegance, no one else will meet these requirements as well as Escada. When entering the boutique, every lady's heart rejoices cheerfully, for she will find everything she desires. Named after a thoroughbred racehorse from 1976, the Irish brand offers everything from dresses, handbags and perfumes to glasses, giving incoming visitors maximum choice.
In order not to keep the gentlemen behind, we must not forget to mention the Ermenegildo Zegna shop, which offers the finest men's suits. This 1910 family-run company boasts a unique production that uses the special fabric Vellus Aureum Trophy, one of the best wool in the world. No wonder the suits from this limited edition are always gone in a jiffy.
Lovers of original fashion will find it in the Diesel boutique, which is a clear materialization of independence and extravagance. This is precisely how Renzo Rosso described the emerging business, who had the opportunity to show his sophisticated business strategy several times during his career. Although Diesel produces many different clothes and accessories today, he has left the biggest footprint in the fashion world with his jeans, which totally rolled over all the others.
The Italian brand Loro Piana from 1924, which is famous for the production of the finest and most comfortable jackets and sweaters, also has a glorious history. Its secret lies in the material used, which usually consists of high-quality cashmere, wool or llama vicuna fur. Customer favor is accompanied by awards from various world experts who have confirmed the unprecedented quality of the pieces offered and have identified Loro Piana as one of the best sellers in the production of woolen clothing.
Quality Accessories Proven Throughout Time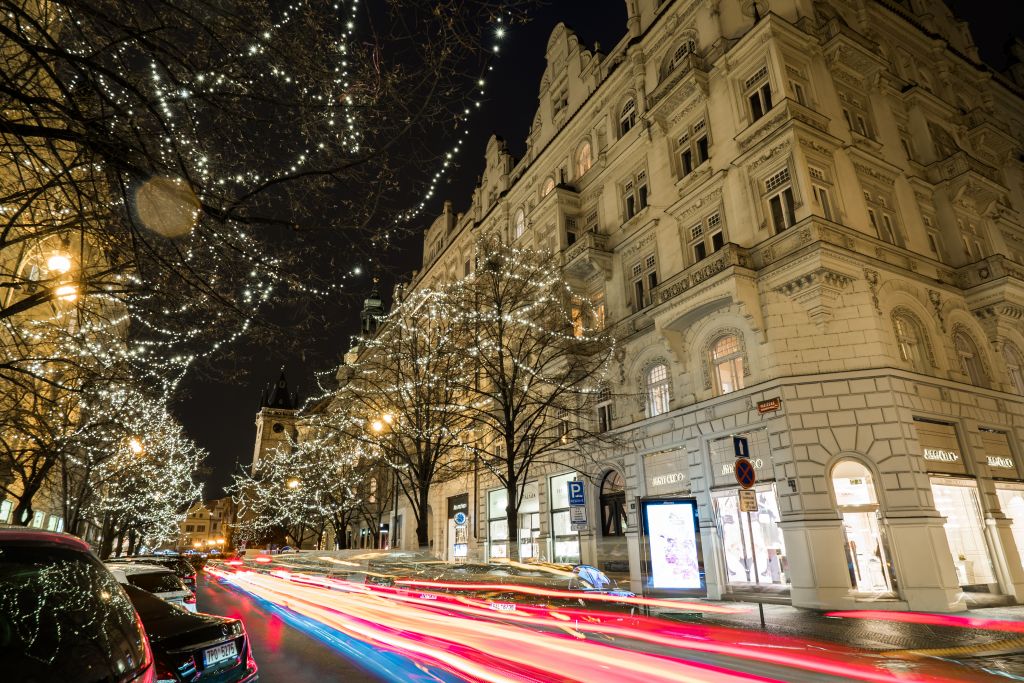 Those who do not look for clothes in Pařížská go to accessory stores. Even in this business, we would find countless companies competing for the favor of customers on Pařížská Street. One of them is the Swiss company Rolex, which with its precise skills tightens the offered watches to perfect perfection. The 1905 brand still boasts up to 400 patent innovations, including Oyster wristwatches or Perpetual self-winding watches.
In addition to the Rolex store, another outstanding company stands out as a first-class watch, which since 1875, as one of the few, is still owned by the founders' family. We are talking about another Swiss company called Audemars Piguet, which has a long tradition as well as love for its craft. Since its inception, it has regularly launched new collections, including the iconic Code 11.59 of 2019.
For shiny accessories, many shoppers in Prague will visit the jewelry store Tiffany & Co., which is already dazzling from the showcase with its beautiful jewelry. Its founder Charles Lewis Tiffany had the opportunity to delight the most famous personalities with his jewelry, including American and European presidents, world magnates and famous celebrities. His most famous work is undoubtedly Tiffany Diamond, the size of an incredible 128 carats.
Beautifully shining is also the Cartier range, which offers jewelry and watches of unmistakable quality. Louis Cartier did not know what a stellar future his business would be when he set up the company in 1847. His jewelry had been a few years after the start of business and had the honor of decorating the cousin of Emperor Napoleon III. or the Empress Eugenia and women around the world eager to have one of the sumptuous pieces of Cartier's work in their jewelry box.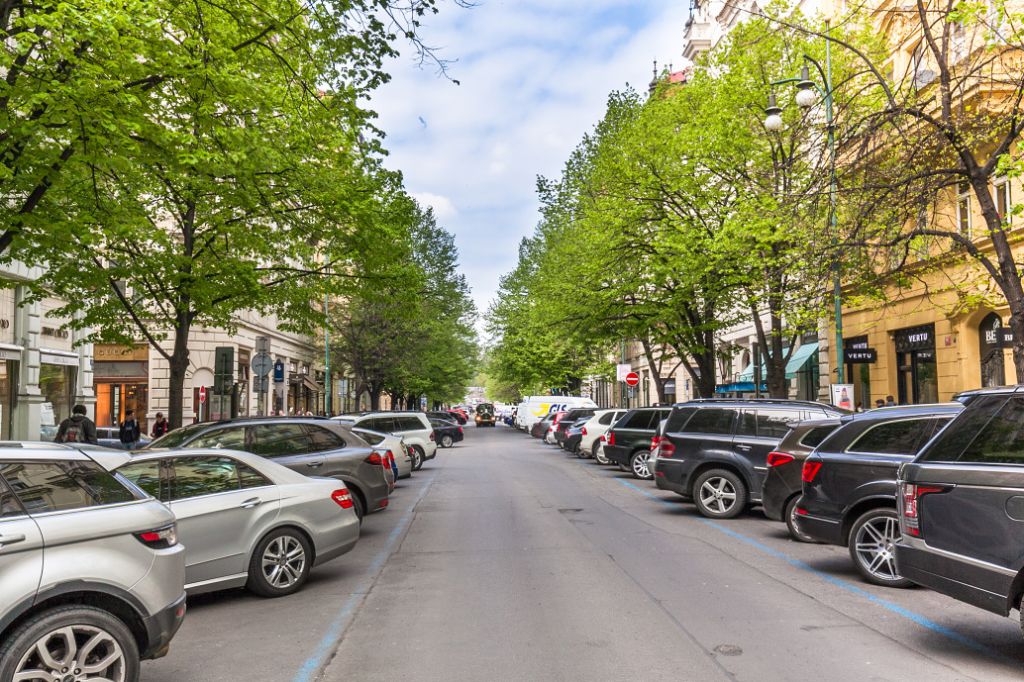 An experienced Venetian jeweler Roberto Coin, who is conquering the world with his eponymous shop, rightly won his place on Pařížská Street. His unrivaled jewelery is won every year by prestigious jewelery exhibitions. His latest masterpieces include the Princess Hearts collection, which will delight any lady with a weakness for gentle elegance.
The Bvlgari jewelry and jewelery shop was founded by Sotirio Bulgari in 1884. This Italian star with Greek roots inherited his talent and passion for jewelry production from his father, who dedicated Bulgari to jewelry production with unique know-how. Since then, Sotirio has been responsible for a number of luxury pieces that fascinate the surroundings with their bold design and the combination of Greek and Roman art.
Neither the brown chessboard pattern and the LV initials need long to be presented. Undoubtedly you will not miss the Louis Vuitton boutique on Pařížská Street, which has maintained its reputation since 1854. Since then, its customers have not hesitated to pay extra for the purses or wallets offered because they know they can rely on maximum quality, elegance and a lifetime warranty.
Prada cannot be missing in the list of the best shops. The Italian brothers Mario and Martin Prada immediately scored points at the then Italian nobility, which gave them a decent start with a large-scale business. The glory of Prada grew year after year, and in 1993 it won the Council of American Fashion Designers award for its beautiful accessories that have no competition.
InterContinental Will Change to Golden Prague Hotel
The new InterContinental owner plans to transform the hotel and its surroundings. According to Metro daily, two new squares will be created. The newly reconstructed areas will extend greenery and Pařížská Street to the river. The hotel gardens will be more reminiscent of the Old Town courtyards and trees will be planted in the back of Miloš Forman Square.
Not Only Luxury Boutiques but Also Services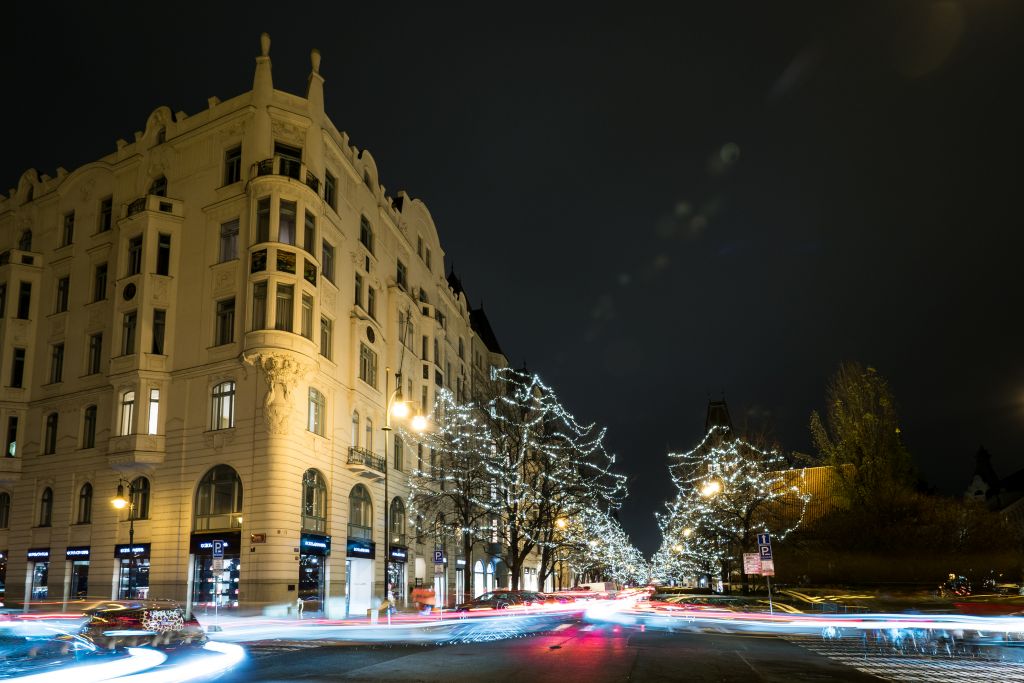 Discover the world of luxury real estate alongside leading fashion boutiques. The services in Pařížská Street have always maintained a high standard and you will also find the headquarters of prestigious companies from various market segments, including real estate. Our company Luxent – Exclusive Properties has been located at Pařížská 28, Prague 1 – Josefov since 2016. We offer residential and commercial properties in this area, the wider historical center and all over Prague and its surroundings. We also cooperate exclusively with several developers on unique projects in the capital and throughout the Czech Republic. Make a personal appointment and visit our office, we will be happy to help you find the right investment or sell your property.