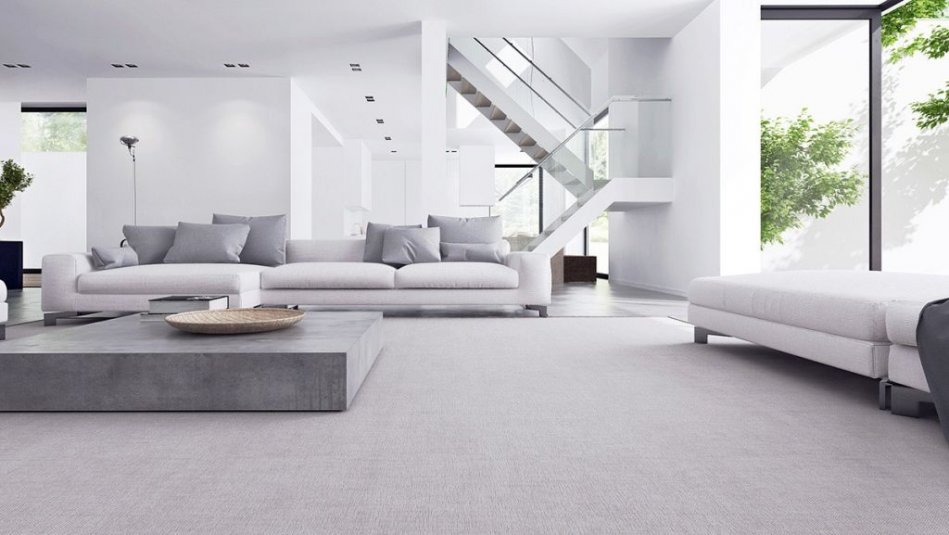 Whether you're planning to renovate your home, or you're just interested in the latest trends in interior design, new ideas always come in handy. We've chosen six of the most popular styles of living, all different, to inspire your creativity, with the spotlight on minimalism, eclectic industrial style, and vintage.
With a bit of creativity, even furnishing or remodeling an interior can be fun. To make renovation easier for you, we've prepared some inspiration for you from today's most popular living styles. Perhaps one of them will find a place in your heart and inspire you, no matter how big or small the changes are.
Eclectic style: A diverse and original combination of styles with a bit of everything
Eclecticism draws inspiration from many different sources and mixes them all together. This original style of creativity has turned into a style of living that loves to combine various elements, colors, textures, and patterns.
Eclectic design may seem a bit chaotic to some, but there is a certain order to it. It's best to combine only those elements that complement each other nicely, for example by color, shade, or material. If you know how to do it, the result is well worth it! See for yourself.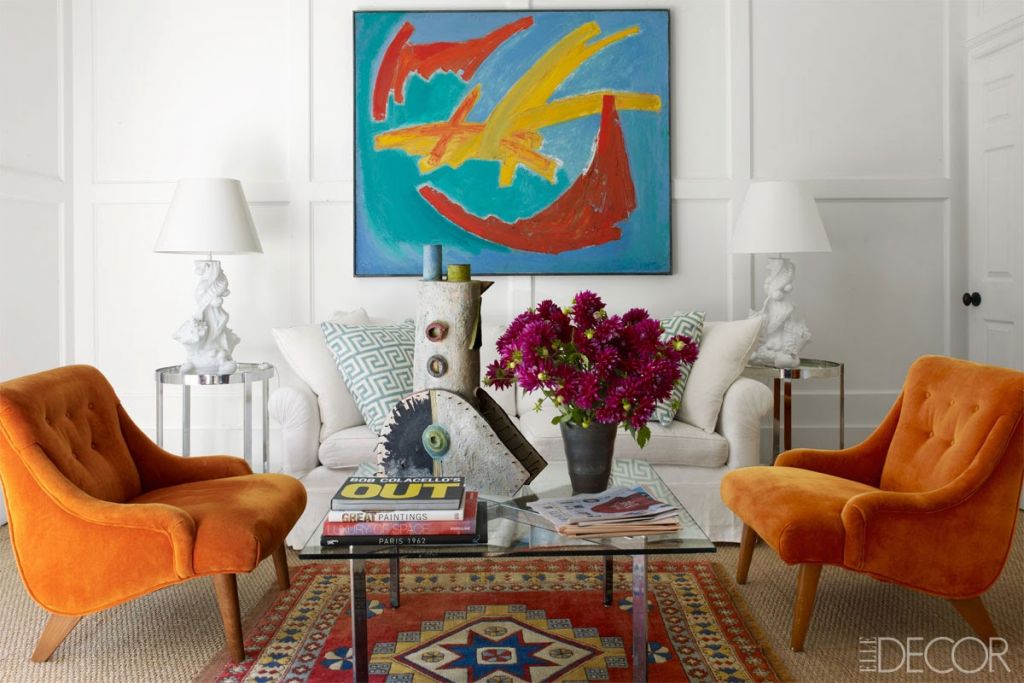 Source: http://3.bp.blogspot.com/…ing-Room.jpg
Industrial style: Cold materials and lofty apartments
The industrial style is more than the latest fad. It dates back to the 1960s, when industries began to move from the world's capitals like London, Paris, and New York directly to the centers of cities. Nowadays, these industrial buildings and loft apartments have become an inspiration for a unique style of interior design.
A key element of the industrial style is the space itself; this should consist of tall ceilings, an open layout, and large panel windows set in metal frames. Materials such as ceramics, concrete, metal, and stone also play their own essential roles. To prevent the space from coming across as too cold and dark, though, it should be diversified with a variety of color accessories and warm lighting to create a beautiful contrast.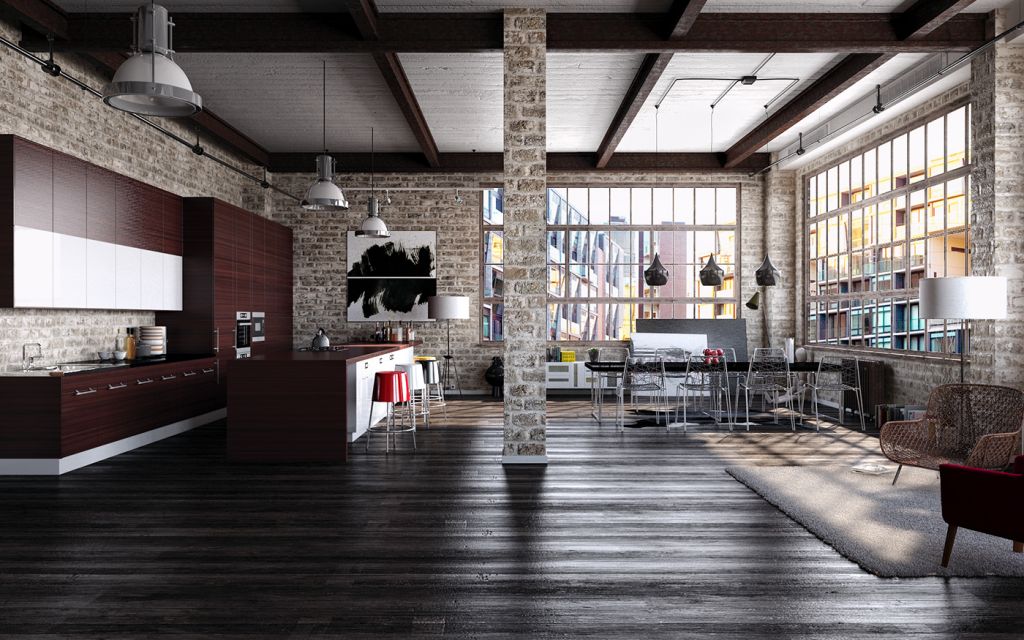 Source: https://mir-s3-cdn-cf.behance.net/…8227d942.jpg
Vintage style: Trends of the last century
Nowadays, the word "vintage" is commonly associated with fashion trends from the 1920s to 1990s. Pearls, lace, hair bows, and plaid dresses all fall into this category. Fashion wasn't the only thing that vintage affected, however. What might a vintage interior look like?
History, and the feelings of nostalgia associated with it, play the leading role here. These combinations are easily supported with decorative cushions, furs, and warm colors on the walls. Elements like the favorite upholstered armchair, chest of drawers with mirror, wooden frames, wooden trunks, and old pieces of romantic furniture are not to be left out. The resulting look should have a relaxed and cozy atmosphere.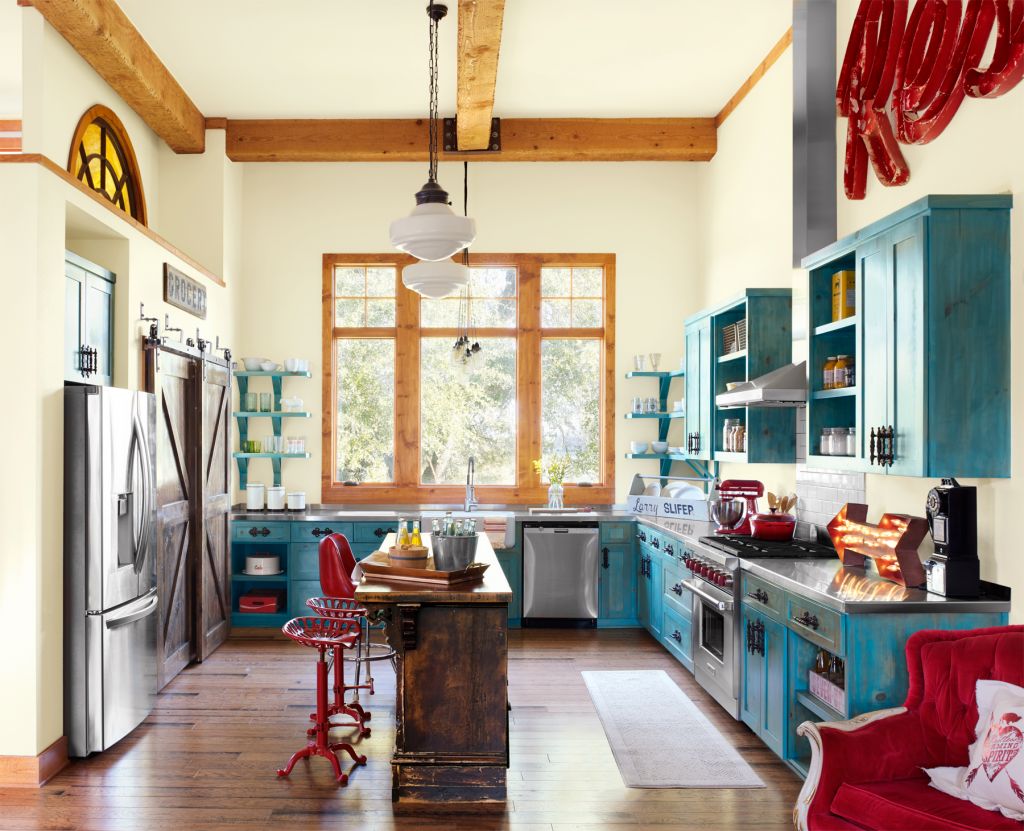 Source: http://clv.h-cdn.co/…hen-0615.jpg
Minimalism: Simple lines and airy spaces
Now from another direction. Next up is another popular style of living, namely minimalism. If you appreciate simple design and clean lines, then you're sure to fall in love with the minimalism style of interior.
Minimalism is based on airy spaces and an absence of unnecessary items or bright color combinations – there's definitely no place for numerous decorations and colorful wallpapers here. A minimalist interior features only those pieces of furniture and appliances that are absolutely essential. Materials such as wood, glass, and metal and furniture with clean geometric lines are considered suitable. In all cases, the emphasis falls on quality, functionality, and practicality.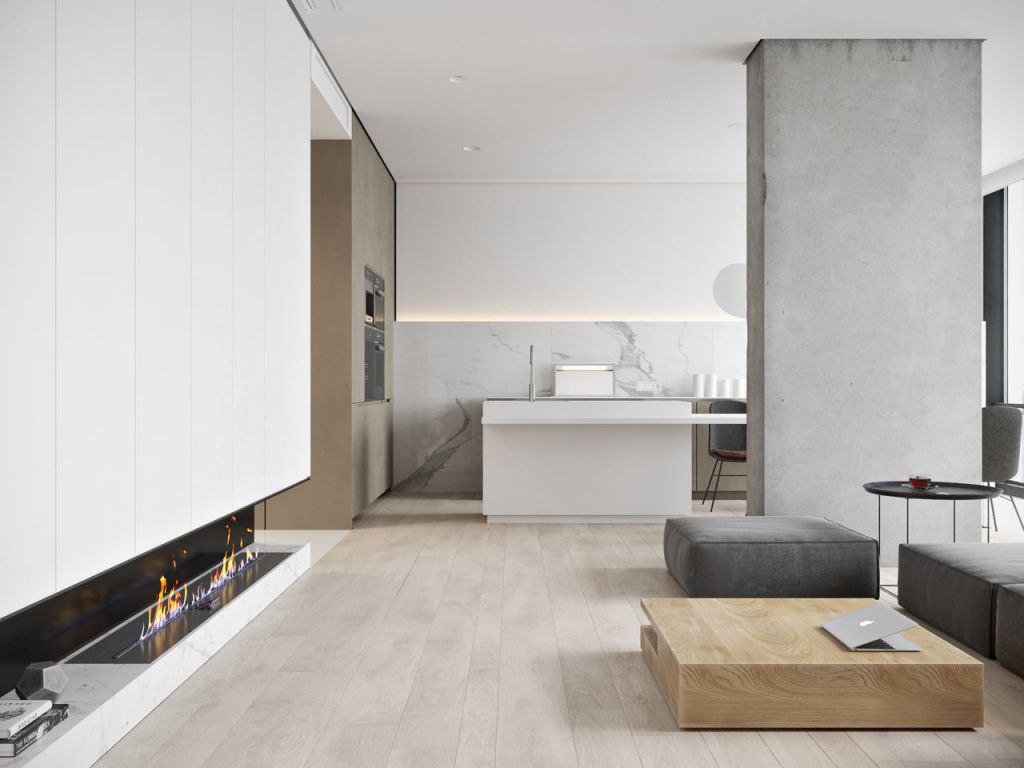 Source: https://64.media.tumblr.com/…qi8_1280.jpg
Rustic style: The warmth of home and earthy tones 
The inspiration of English nature and the French countryside – this is the rustic style of living that enchants those who have a passion for natural materials, warm earthy tones, and cozy decorations. An inevitable feature of the rustic interior is always a touch of romantic nature.
If you've ever looked into one of these households, you've certainly seen the wooden furniture, decorative cushions, robust curtains on the windows, handmade ceramics, paintings with natural motifs, woven colored rugs, and the favorite wicker baskets of all sizes. This all comes together to create a cozy interior with romantic motifs and a homely atmosphere. Take a look at this charming French interior in a rustic style, for example.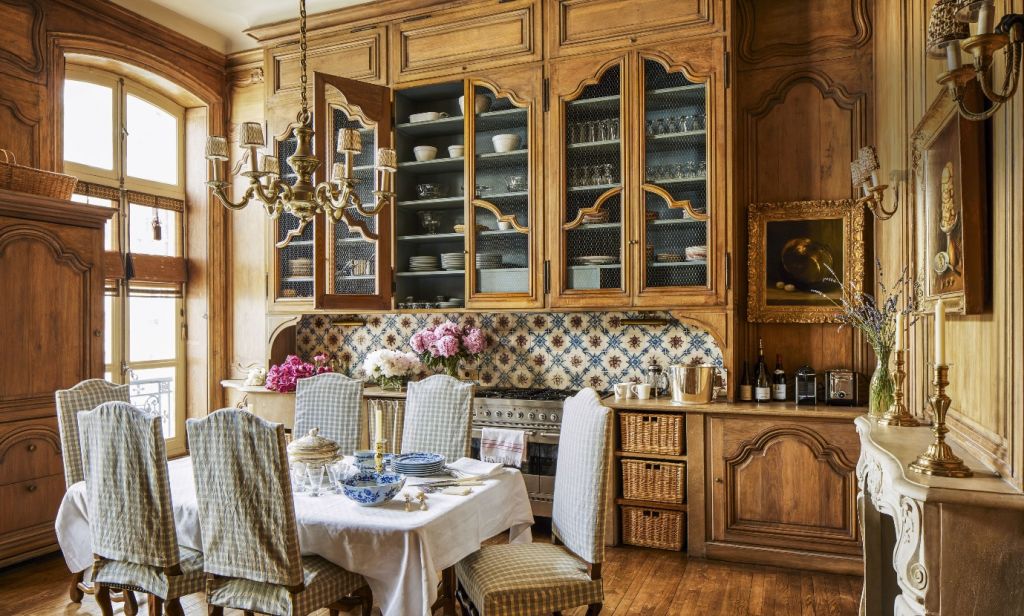 Source: https://www.hurriyetemlak.com/emlak-yasam
Retro style: Vibrant colors and a touch of history
As usual, old trends are returning to fashion. And the interior style known as retro is no exception. Colors, shapes, materials, and accessories, all the elements that you might remember from your parents' or grandparents' childhood, all come to mind. The fact is, however, that which period you choose to furnish your retro interior is totally up to you.
Classic retro includes plastic chairs, veneered or metal furniture, metallic objects, posters on the walls, and decorations in strong colors. And speaking of strong colors, the most popular are shades of gray, mustard yellow, red, and green. These are the colors that would appear so often on wallpapers, together with various geometric patterns or flowers. The bolder the better.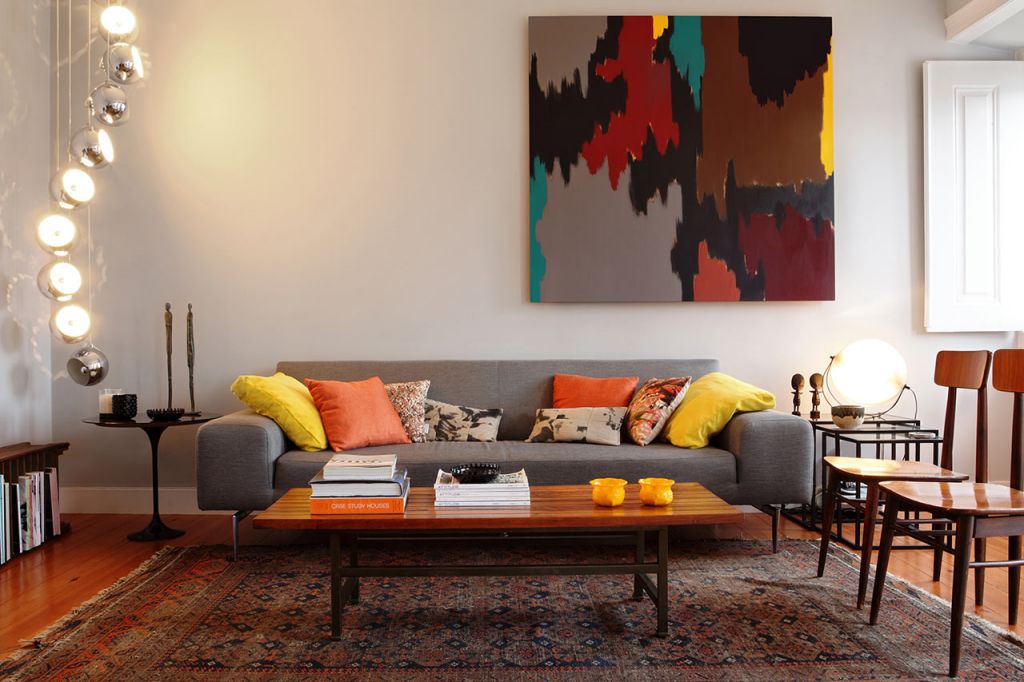 Source: https://design-milk.com/…rigues-1.jpg
Thus ends our showcase of popular living styles. If any of them has found a place in your heart, it takes just a few simple steps to transform your interior accordingly. If you're looking for even more interior inspiration, we recommend the article Living Styles by European Countries, where you'll find ideas on how to add a touch of your favorite country to your home without having to travel.