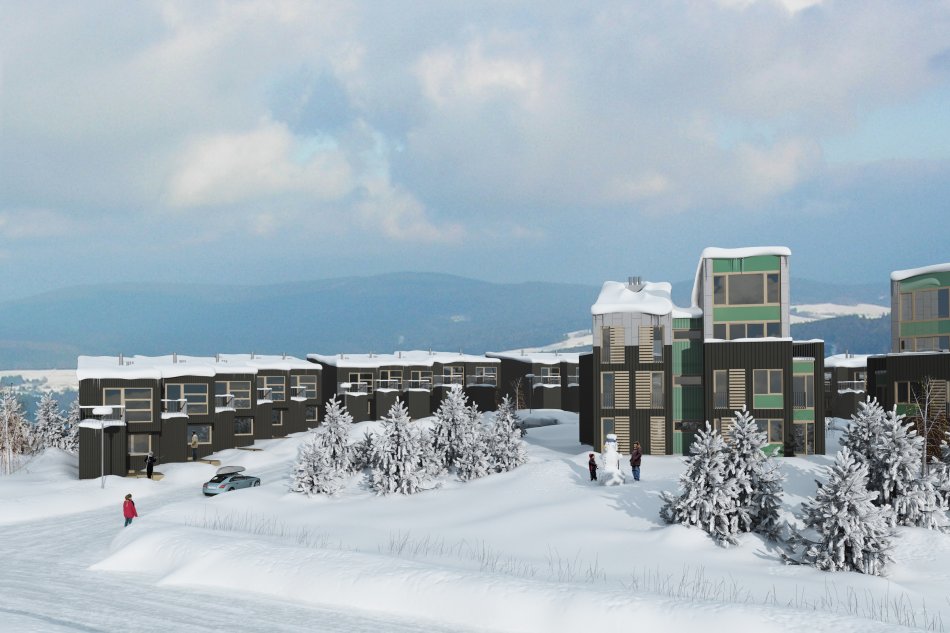 Krušné mountains are due to it's altitude and the regular snowfalls ideal for the downhill and cross country skiers.  The ski season takes an average of 160 days on Klinovec slopes. Snow usually strikes in November and remains until April; average temperatures in the winter months range from –3 to –6 ° C. In this sought after location we offer for sale apartments and semi-detached houses now. Just 200 m from one of the top five ski resorts in the Czech Republic Klínovec –  sever, which offers 10.2 km of artificial snow skiing tracks.
The project is located between the four ski resorts : Klínovec and Neklid in the Czech Republic and Fichtelberg in Oberweisenthal, Germany. All of the resorts are situated within 1.5 km. There are all types and levels of slopes, including a quality snowboard park and excellent conditions for snow-kiting. Beginners will appreciate the wide range of ski schools and training slopes. The mountain landscape around Klinovec is well-known for its well-marked hiking trails and many cycling routes with varying degrees of difficulty. There are dozens of marked trails of different lengths that will surely satisfy every cyclist.
 The architecture of the project emphasizes the merging of houses with the surrounding countryside with the use of natural materials. The facades of the houses are wooden and the roofs of the semi-detached houses are covered with stoves. The buildings are modern, bright, spacious and offer the best view possible of the surrounding countryside. Recreational center offers for sale apartments in semi-detached houses and apartments and the apartment studios in small residential buildings with three above-ground floors. The semi-detached houses are two-storeyed and are designed in groups of five units.