Are you planning to buy an exclusive property? In addition to luxury apartments in Prague, family villas and commercial buildings, you can also choose from historic ones! In the Czech Republic, unlike Western European countries, we have monuments that have been relatively preserved, but during the previous regime it was impossible to buy them. Since then, they have been in great demand among businessmen and celebrities. They build private residences, company headquarters, hotels, spas, restore castle parks, vineyards or develop other agricultural activities on the land. Are you interested in how this unique segment works? Lenka Munter, a specialist at Luxent - Exclusive Properties, who has valued the properties of the British royal family for Forbes in New York, will guide you through the world of historic properties. The company currently offers several castles in its portfolio, including those in Světlá nad Sázavou, Encovany and Stružná.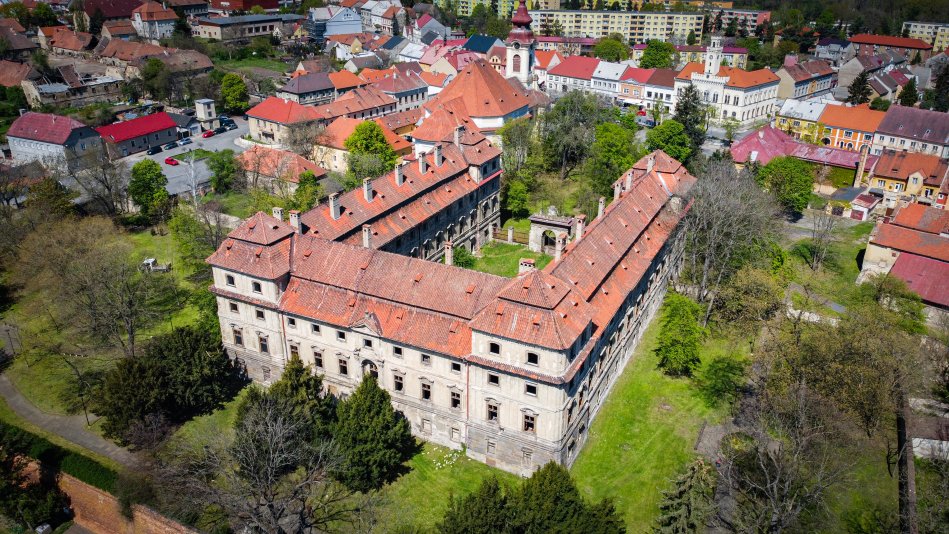 Photo: Baroque castle Postoloprty
The biggest boom in the sale of castles in the Czech Republic dates back to the 1990s after the restitution. Companies and private individuals bought on favourable terms and some had already counted on speculative resale. As a memento of that time, there are still castles that have been dilapidated for many years and their owners have not taken care of them. "There are still a lot to choose from on the market at the moment, although several unique locks offered for several years have been sold in the last six months. In terms of volume, there are dozens of buildings, both in public and private offer," Lenka Munter calculates. In addition to castles and hunting lodges, the market offers farm buildings such as farmhouses, mills, old factories, as well as rectories, granges, small churches and chapels, which make for luxurious living. "At the moment, when there are not enough small castles on the market, I am more often seeing requests for old mills, parsonages and granaries," says Lenka Munter, a specialist in historical properties at Luxent - Exclusive Properties.
Photo: Chateau complex in Světlá nad Sázavou – interior
An unprecedented surge of interest was observed especially during the coronavirus pandemic. "The global epidemic had a clear positive impact on the sale of historic properties. People are now buying more interesting properties than, say, two years ago. There is a simple explanation - money is not the most important factor for property investors. The highest value is health, family life in a beautiful place surrounded by nature, and increasingly also a return to tradition and an interest in history in these turbulent and uncertain times," says Lenka Munter.
However, the actual time of sale is very individual. "For example, the last castle I sold was offered for a year. A lot of people came for tours, some of them repeatedly. Then the right person came along and the deal took off quickly. Another castle has now found its owner after the first viewing," explains the historical property specialist.
How to value the seemingly priceless?
Valuing historic properties is a complex discipline in itself, with many factors to take into account. A few years ago, Lenka Munter was approached by Forbes New York magazine with a request to value some of the properties occupied by the British royal family. "For the record, for example, I estimated the value of Buckingham Palace at $5 billion, but the palace is owned by the state and will never be sold," says the specialist.
Key criteria include the location, the size of the building and land, the condition of the property, whether or not it is renovated, furnished or unfurnished, what its cultural and aesthetic contribution is, or what its potential uses might be. According to Lenka Munter, certain parameters are very difficult to value. "Especially the cultural and historical value, for example the residence of important families and the course of interesting events. However, it is the technical aspects that come first. These ultimately decide the price." So, you should always turn to a real expert with many years of experience, perfect market knowledge and a professional approach.
The final price will of course also include the costs associated with any reconstruction. If the chateau is yet to be renovated, you can expect that the amount for all the construction, restoration and garden work may be ten or even twenty times the purchase price. "For some buildings, I estimate the complete reconstruction to cost hundreds of millions of crowns. Moreover, the vast majority of the castles I offer are listed. Buyers naturally ask about this in connection with the financial aspect. They are interested in how negotiations with the relevant authorities have been or are being conducted. If, for example, insensitive interventions have been made in the past, they must be corrected," Lenka Munter points out: "There are, however, a number of grants and subsidies for the preservation and renovation of buildings registered under heritage protection - these can be state or regional subsidies, subsidies from the Ministry of Culture, the Ministry of Regional Development and other ministries such as agriculture or industry. Many subsidies and programmes are also based on support from the European Union and supranational organisations helping to save monuments." The portfolio of Luxent - Exclusive Properties includes a number of historical gems.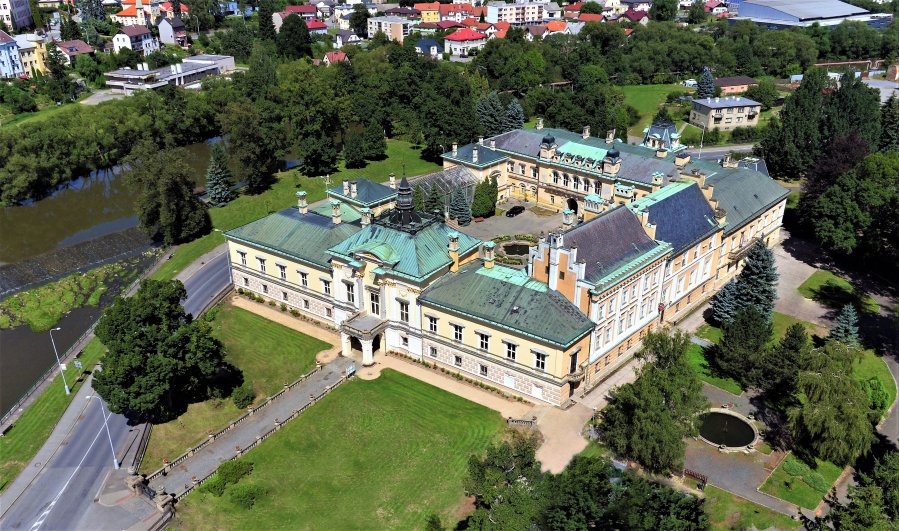 Photo: Chateau complex in Světlá nad Sázavou
Cultural centre with expositions
One of them is the Chateau in Světlá nad Sázavou, which stands on the left bank of the Sázava River in the vicinity of the centre of the ancient town situated in the landscape of the Bohemian-Moravian Highlands. Its origins date back to the end of the 14th century, when a Gothic fortress was built on this site. The large castle complex, about 100 km from Prague, today offers 5,500 m2 of usable space on two floors. The two-storey four-winged building has Renaissance, Baroque, Empire and Neo-Renaissance elements and is surrounded by a rectangular courtyard with a fountain and an orangery. Together with the adjacent English park with a cascade of ponds and bridges covering an area of approximately 16,000 m², the Svetla Castle forms a beautiful and distinctive landmark.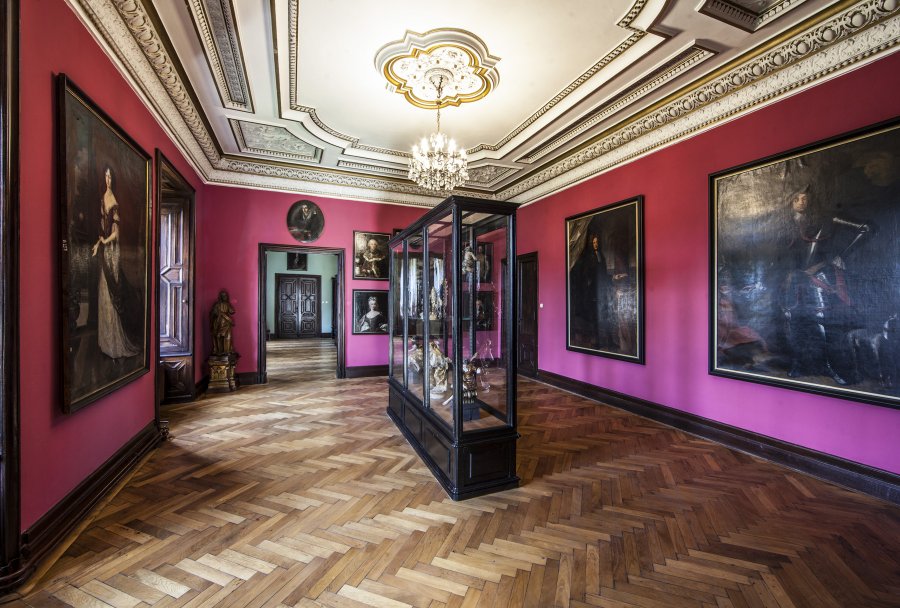 Photo: Chateau complex in Světlá nad Sázavou – interior
For historic properties, the aspect of public access is often also addressed. "Smaller castles permanently occupied by the owners are overwhelmingly not accessible, but large castle complexes do provide for such possibilities. From a commercial point of view, these activities can be a boon to the castle's coffers, which finance necessary repairs and routine maintenance. Thanks to enlightened owners who love art and culture, Světlá nad Sázavou is a prime example. They have invested a lot of energy and time in the activities related to the operation." In addition to two unique sightseeing routes, the Exposition of Historical European Glass and the Exposition of Historical Clocks, Baroque paintings, polychrome sculptures and figurative porcelain, there are permanent and seasonal exhibitions." Světlá nad Sázavou Castle received an Honorable Mention from the expert community for its significant contribution to tangible cultural heritage in 2020, specifically for its overall restoration and revitalisation.
There is a café with refreshments in the courtyard. Several luxuriously restored apartments equipped with historic furniture provide hotel accommodation. The castle cellars and the generous attic spaces above the Baroque and Renaissance wings offer a wide range of other uses. With 650 years of history, this building will definitely impress you with its versatile potential - you can build a refined hotel with wellness and restaurant, a rehabilitation centre or just a private family residence with limited operation of a part of the castle according to your own ideas.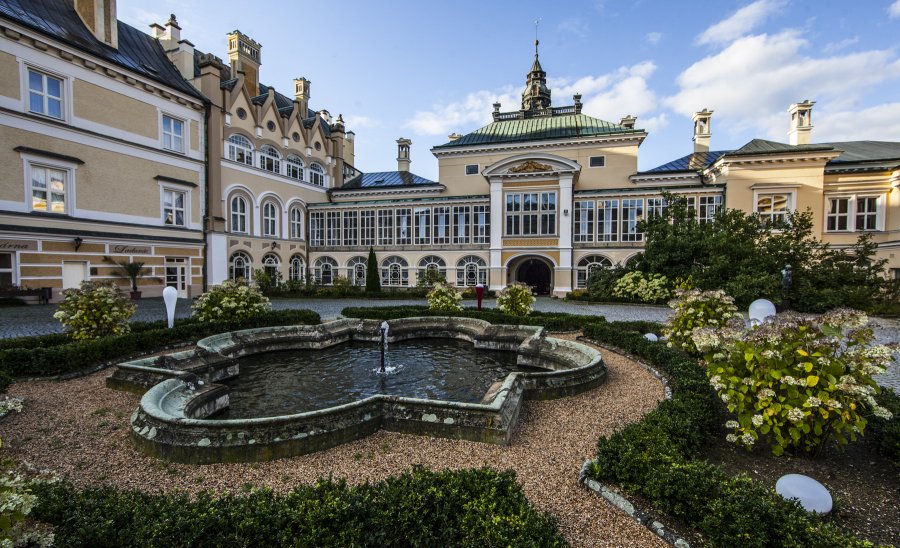 Photo: Chateau complex in Světlá nad Sázavou
For housing and business activities
The Renaissance castle Encovany of 1 806 m2 is located near Roudnice nad Labem. The cultural monument consists of four wings of two and three storeys built around a rectangular courtyard. The complex also includes a four-sided prismatic tower. Fragments of Renaissance paintings have been preserved in its interior as well as on the first floor of the south-west corner. The original Gothic fortress was used as a residence by the Chotěšov Premonstratensians, then it was acquired by the Šenfeld family and in the 16th century it was rebuilt into the present chateau layout in the Renaissance style. After the end of the occupation and the land reform, the castle was used for economic purposes. In recent years, Encovany has undergone many renovations and is now waiting to be transformed into, for example, a pension for the elderly, a private clinic or a hotel.
The Renaissance Baroque castle Stružná, located about 13 km from Karlovy Vary, originally named Kysibl, is a cultural monument. It was built at the end of the 16th century as a replacement for the nearby 15th century Andělská hora castle, now a ruin. The main castle building is surrounded by a large fenced park of about 12 hectares with rare trees, a pond, a garden pond and a stream flowing on its southern side. You will surely love the impressive original driveway from the former imperial road from Karlovy Vary to Prague, lined with a mature avenue and leading through the park to the courtyard, which is entered through a baroque gate.
Photo: Renaissance-Baroque castle complex Stružná near Karlovy Vary
Of course, we also offer other historical properties for sale, such as three Baroque castles in Postoloprty, Cítoliby and Brody near Podbořany, all not far from Prague in the beautiful fertile area of the Loun region. "The smallest of them, Brody u Podbořany, has a unique location on a hill above the village with a view of the surroundings and has a large plot of land. It is a beautiful place to build a romantic family residence. The Cítoliby and Postoloprty chateaus are rather bulky buildings, more suitable if you want to combine commercial and private purposes," Lenka Munter comments on their possible use.
If you want to make your dream of living in a castle come true, be sure to contact us - either online or in person at our Luxent - Exclusive Properties office at Pařížská 28, Prague 1.