Do you want to go skiing or cross-country skiing? Wondering where to spend your spring break with family or friends? Get yourself a holiday property in the mountains! You will see that you can choose from our range of exclusive properties in renowned domestic resorts in no time.
The unprecedented growth in demand for holiday properties in the Czech Republic, especially those that can serve as second homes, is continuing. However, the problem is the insufficient supply. "The coronacrisis reminded us that travelling abroad may not be a given and that working in an office may not be suitable or even possible. Understandably, this has increased interest in buying properties in the beautiful countryside but which allow people to work full time, manage the distance education of their children and all at a standard at least similar to that offered by primary housing. If we are talking about a total long-term shortage of supply in residential construction in Prague, the situation with quality recreational properties is even more trivial. Although the supply of residential complexes in the mountains or by the water has been growing recently, the pace is totally insufficient. Space for new construction in traditional mountain resorts is almost non-existent, and there is insufficient infrastructure elsewhere," explains the director of our real estate agency Luxent - Exclusive Properties Jiří Kučera and adds: "The development of property prices in the coming year for holiday properties will be interesting - unless they are exceptional or suitable for permanent housing, there will be a cooling after years of significant growth. Of course, this will not be the case for premium locations, i.e. luxury villas and houses or apartments."
Increasingly, then, interested buyers are looking for those properties that can be second homes without the need for compromise and repairs and that are available immediately (or soon). Thus, there is a growing group of people who prefer a furnished apartment with all services, which allows for comfortable living and more time to relax and stay outdoors in nature. The number of purchases for investment property is also increasing. The most desirable locations include:
Giant Mountains
Jizera Mountains
Sumava
Beskydy Mountains
Ore Mountains (Krušné hory)
Jeseníky
In our portfolio you will find a variety of luxury properties where you can spend (not only) this winter season - let's introduce them!
Find a second home in the mountains...
... for example in the newly built Harrachov Peaks residence! It is in the spirit of traditional architecture emphasizing the character of the original cottages and will be built with 16 stylish apartments with balconies and terraces and with a usable area from 52 m2 to 156 m2. Here you will find much needed peace and privacy for your relaxation and leisure activities. At any time, you can enjoy a private wellness area with sauna and whirlpool, as well as a 40 m2 fitness room with gym. There are also play areas for children or places for neighbourhood gatherings around the fire.
The advantages of one of the most popular ski resorts in the Giant Mountains with perfect infrastructure and excellent conditions for a wide range of sports such as skiing, snowboarding, cross-country skiing, golf, cycling and other outdoor activities will be literally at your fingertips!
On the shore of the "South Bohemian Sea"
The Molo Lipno Resort development project is surrounded by Šumava nature. The dominant feature of the complex with 87 exclusive apartments will be an iconic 150-metre long wooden pier with a heated pool and filtered water. You will also be pampered by the resort's five-star services, such as a first-class restaurant, wellness centre, bar and beach club.
A wide range of sporting activities is available all year round in the Šumava region - now in winter you can enjoy nearly 12 km of downhill runs, a snow park and cross-country skiing trails. Your children will love the largest children's ski playground in the Czech Republic. For more demanding skiers, the Hochficht Ski Resort with its 21 slopes is just over the border. Ice skating will be an unforgettable experience. Don't hesitate, less than a quarter of the units are now available for purchase!
Legend of Czech resorts
We also have for sale a brand new luxury apartment house in Spindleruv Mlyn (note: already sold) with 6 fully equipped 3+kk units with a living area of 86 m2 - each with a balcony or terrace, three bathrooms, complete equipment and even a Finnish sauna! There is a smart system with remote access, automatic ventilation mode with heat recovery to ensure perfect air quality and reduce heat loss, security and camera system on all sides of the building. In addition, you can enjoy breathtaking views of Medvědín and Špindlerův Mlýn! The luxurious new building can also serve you as an investment in apartments for rent.
The popular location of the Krkonoše Špindlerův Mlýn perhaps needs no introduction - it offers a wide range of activities across the seasons in all winter and summer sports for adrenaline lovers and peaceful holidays with or without children.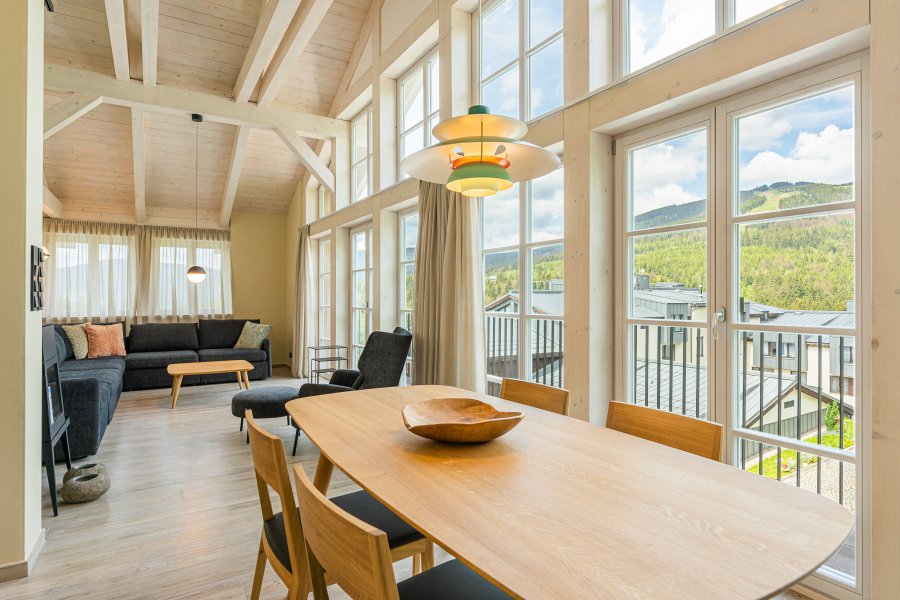 Photo: Apartment house in Krkonoše
For romantic souls
Are you craving something more intimate? Then you will love the listed timbered house from the late 19th century. This listed historic property, which has undergone a thorough renovation, will give you the privacy you want, plus a fairytale-like atmosphere.
In its surroundings you will find plenty of opportunities for winter fun - nearby are the ski resorts of Pec pod Sněžkou, Jánské lázně or the individual ski slopes around Horní Maršov. In addition, there is a rich network of cross-country ski trails.
Hot news at the end!
Still hesitating? Let us introduce one more pearl, namely the brand new development project Apartments Albeřice. A total of 11 design apartments ranging in size from 1+kk to a generous 3+kk will be built in the quiet location of Horní Maršov, designed by the renowned Morix studio. We plan to start selling luxury apartments in spring! If you would like to learn more, or are considering a pre-booking, please do not hesitate to contact us - either online, or visit us directly at our Luxent - Exclusive Properties office at Pařížská 28, Prague 1.