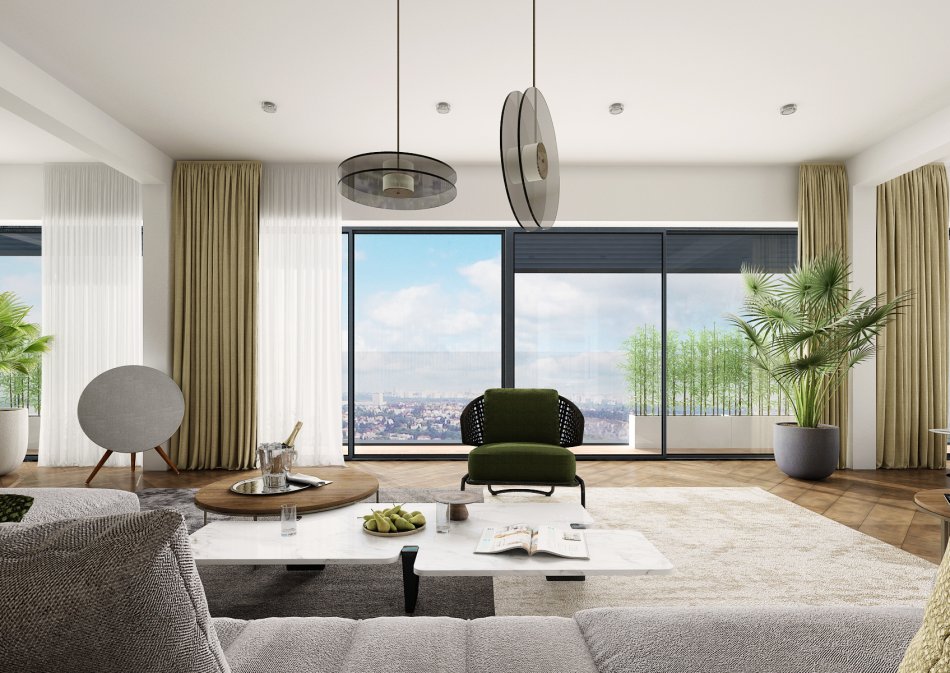 Would you like to live in privacy, with the possibility of going out into the fresh air, but at the same time do not want to leave the wider center of Prague with excellent accessibility and rich civic amenities? The solutions are provided by apartments on the highest floors! You can buy a family villa this way without having to search for land. You will also avoid the curious eyes of neighbors who could peek over the fence at the house or villa.

Exclusive properties should meet several specifics. These include a prestigious location, premium equipment, the use of high-quality, long-lasting building materials, and timeless, elegant design. Even the most demanding ideas about the luxury living will be fulfilled by the so-called penthouses, ie a kind of separate houses on the roof of an apartment building. They have become a symbol of a successful lifestyle, in the world's capitals they are widely sought after by celebrities and entrepreneurs, for example. "We are still registering a great demand for penthouses. To a large extent, their price and attractiveness depend on the location – the attraction is the scenery with historical monuments in the heart of Prague," says director of real estate agency Luxent – Exclusive Properties Jiří Kučera and adds: "Frequent requirements include above-standard functions locker rooms and the like, and modern technologies that provide a healthy indoor environment and smart home control."



Living in the clouds
Apartments on lower floors usually do not get as much daylight, as the surrounding buildings, trees, or other obstacles prevent it. You won't experience that in penthouses. Thanks to its unique location at the top, it offers illuminated spaces into which sunlight often penetrates through large-format windows. In addition to all this, you will enjoy breathtaking views every day. Here it is entirely up to you whether you prefer a view of the sights of nature. In terms of disadvantages, for example, noise may occur from poorly located air conditioners, chimney outlets, or other technological equipment. However, these problems can be avoided when choosing an apartment to buy.

We have for sale a penthouse in Prague 5 – Smíchov with a size of 172.6 sqm with a terrace of 25.5 sqm in a newly built apartment building on the 8th floor, which has pleasant views of the greenery of Husovy sady and the center of Prague. It is sold in shell & core condition, so new owners can arrange it exactly according to their taste. From a construction point of view, it is ready to meet high demands and requirements. It is a single apartment on the floor and you can even choose from several variants of use. It can be kept in its current layout as 4+kt, divided into comfortable 5+kt, or create two separate housing units 4+kt and 1+kt with a separate entrance.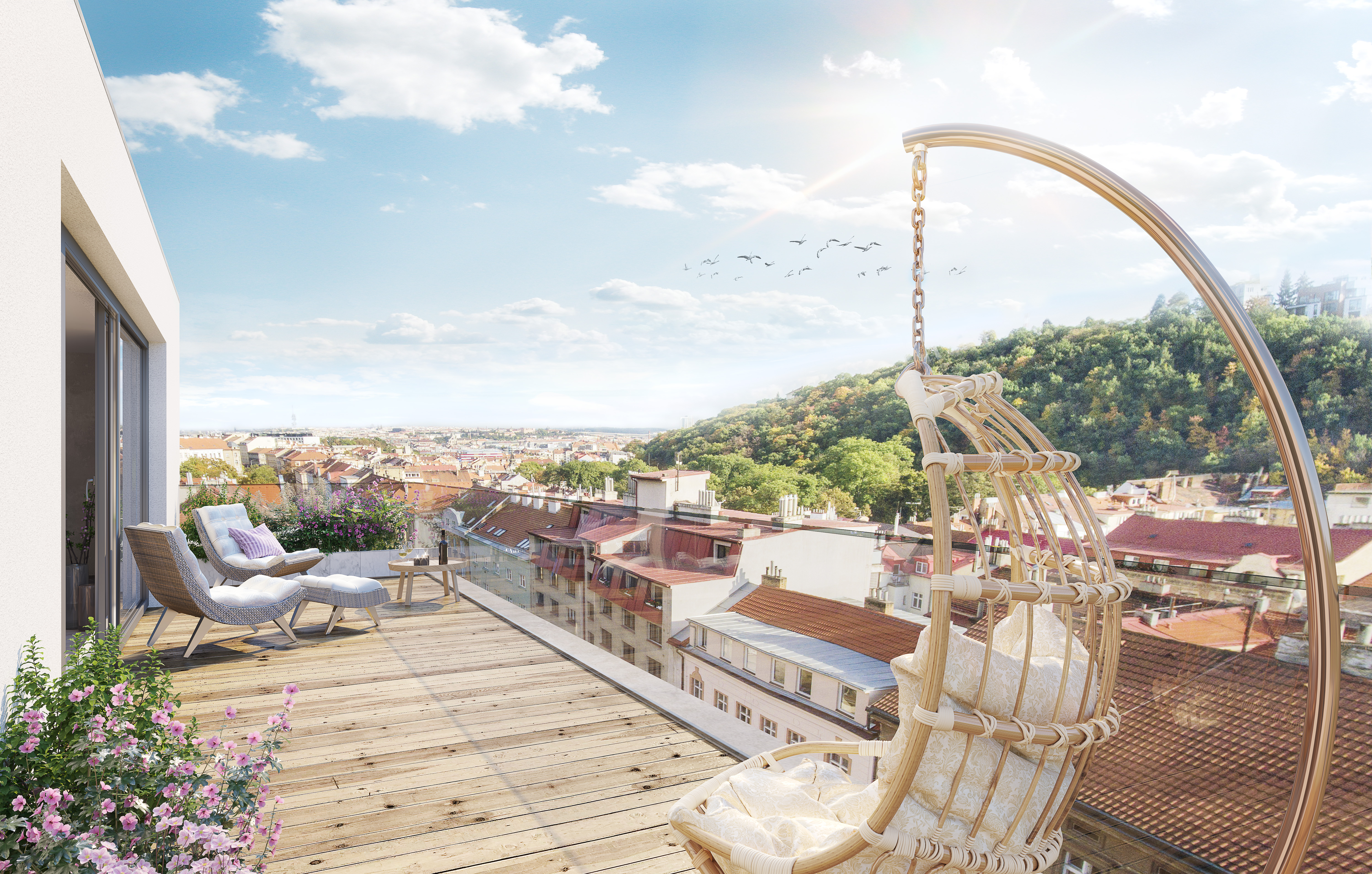 Luxury loft apartment with a layout of 4+kt and an area of ​​170 sqm can also be found on the top floor of the development project Viladům Děvín pod Dívčými hrady in a residential area of ​​Prague 5 in the vicinity of green valleys. The unique penthouse evokes the exclusive crown of the project. It has terraces, beautiful views, and two parking spaces in the basement of the house. The south-facing living room is connected by glass walls with a spacious terrace of 38.8 sqm with a panoramic view of Prague (along its entire southern length). The windows are equipped with blinds, so you don't have to worry about the hot summer sun. As the only apartment on the 4th floor, it offers owners an intimate atmosphere and plenty of privacy. Modern design and high-quality equipment will satisfy even the most demanding. SMART control further increases living comfort and reduces energy consumption.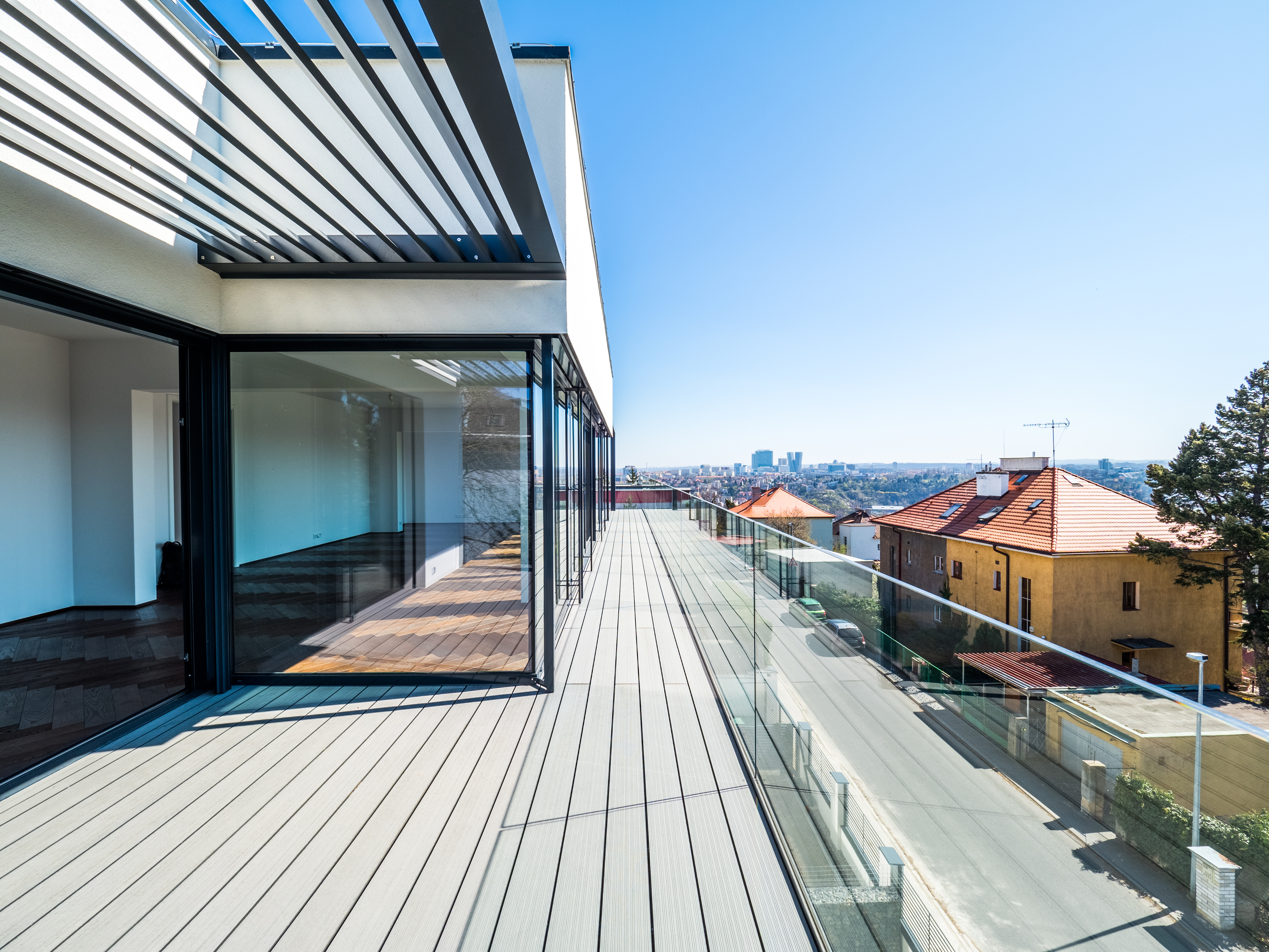 Another variant of apartments at the very top is maisonettes. In a quiet residential part of Barrandov, we have for sale a duplex apartment with a living area of ​​210 sqm, which also includes two terraces with a size of 230 sqm resembling a bow and a boat deck with a magnificent view of the Prokop Valley. One is north-facing and includes a gym, shower, solarium, and hot tub. On the second terrace facing south, there is a summer sitting area with a kitchen and barbecue.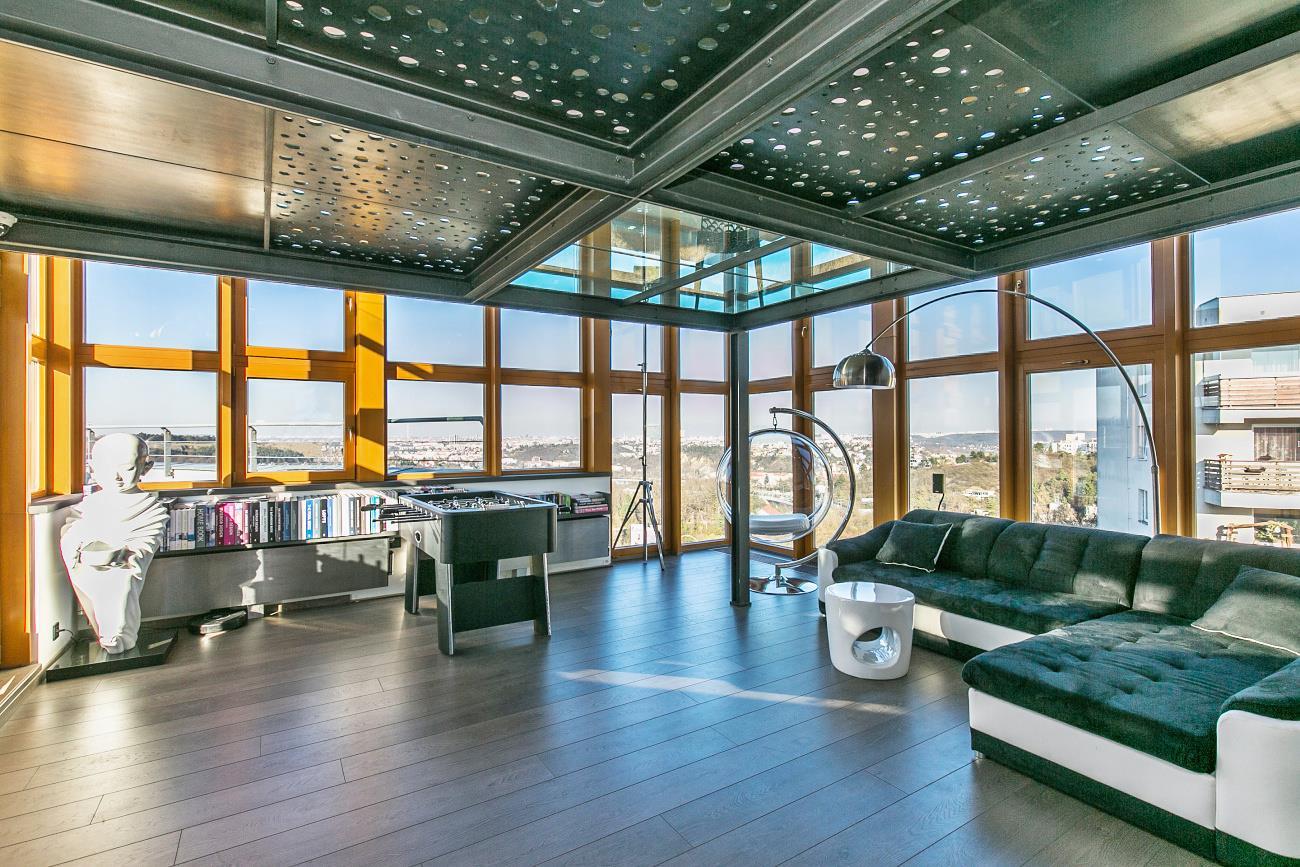 If you are attracted to have daily views of the landscapes, do not hesitate to contact us. Whether you are interested in one of these gems or would like to explore our portfolio more thoroughly, we are at your disposal – online or in person at our luxury office Luxent – Exclusive Properties at Pařížská 28, Prague 1.