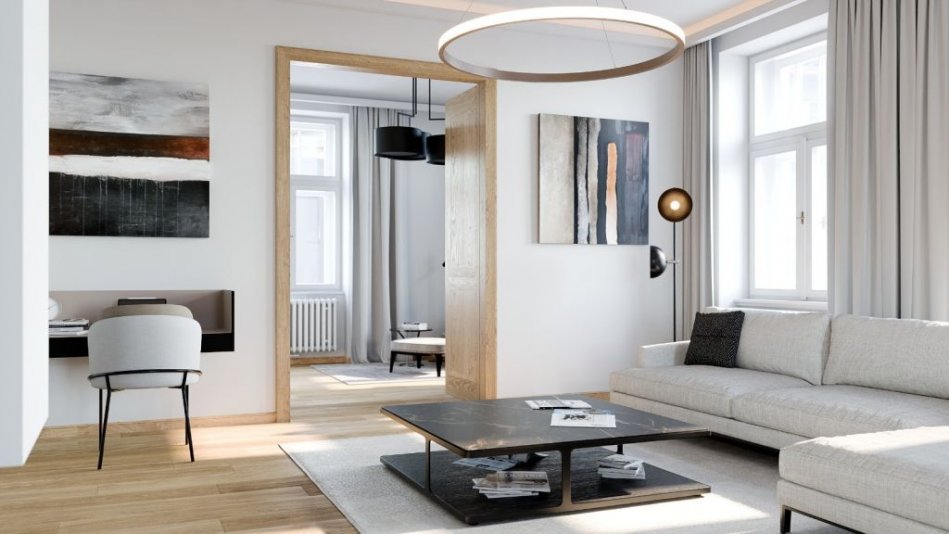 Housing trends are changing year by year, and this year it will be no different. The year 2020 will be carried in the spirit of air space, large-format windows, minimalism and wooden floors. You can also look forward to the presentation of exclusive Prague apartments, which reflect these design trends tastefully – such as apartments in Lesser Town, Vinohrady or Josefov.
The year 2020 is here and many housing trend lovers are eagerly looking for what will dominate modern households this time. The truth is that this year there are many interesting innovations that will surely attract developers and those who are looking for stylish living in Prague corresponding to the latest hits.
From the outset we can reveal that the next 12 months will be carried in the spirit of minimalism, airy space and light colors. Together with these trends, we will also introduce luxury apartments in Prague, which highlight this style.
TOP housing trends in 2020
Open and airy spaces
Do you remember the times when most of the apartments were divided into kitchen, bedroom and living room? Today it's different. Increasingly, the hit in the form of interconnection of individual rooms is growing, creating a large and airy space. Nowadays, in many modern apartments we find a kitchen connected with a living room, which clearly evokes a feeling of cosiness and comfort.
A great illustration of this trend can be this luxury apartment in the Lesser Town, where is a dining room tastefully connected with relaxation zone, from where there is a beautiful view of Sudek's house. The impression of airiness is also contributed by a large number of windows that are oriented to three cardinal directions.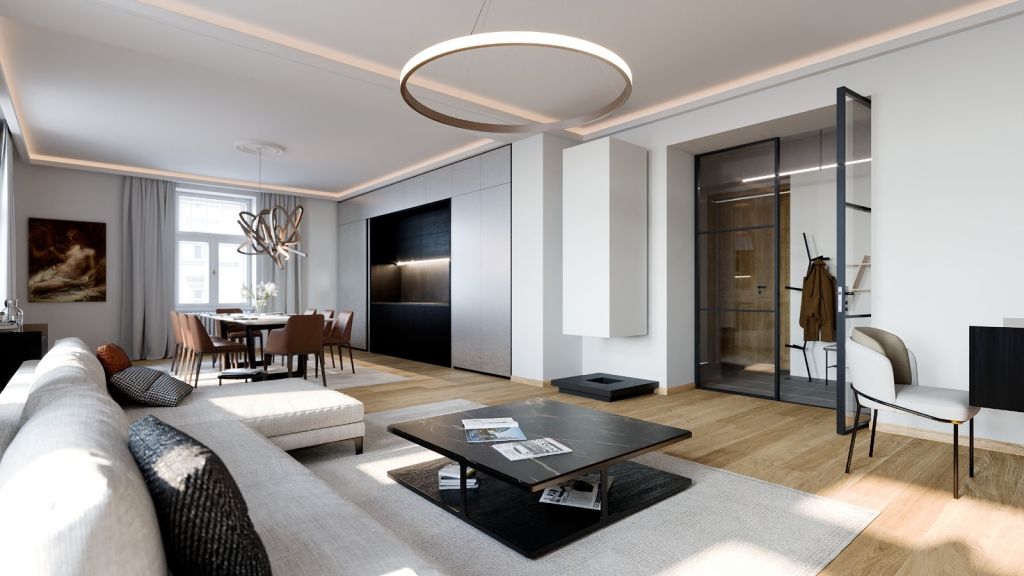 Minimalism
Minimalism experienced a big boom in 2019 and this year it will be no different. Flats overflowing with things and with striking decorative elements recede into the background, and on the other hand, a clean, neat and simple design comes forward, again giving the feeling of airiness and openness.
An excellent example of minimalism can be this spacious renovated apartment 4+kt in Prague's Bubeneč district, which all fans of simple design will love. In addition to original decorations, interesting lighting and unique spatial design really deserve your attention.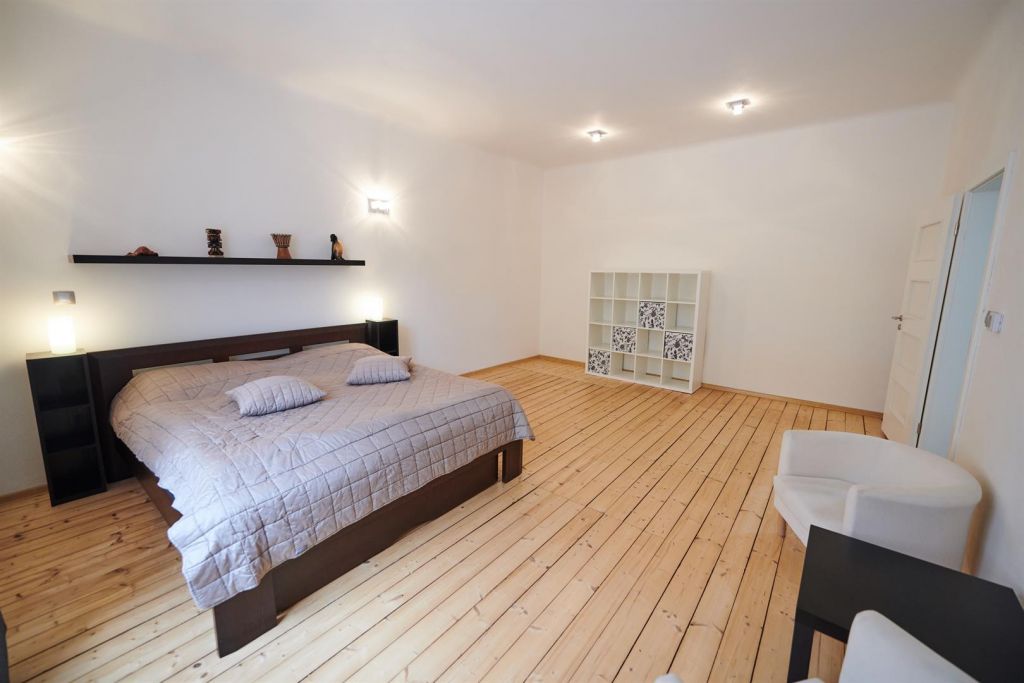 Large format windows
It is certainly worth mentioning large-format windows, which are currently very popular. The reasons are clear: more natural light and a more attractive flat look. Therefore, large glazed areas today are not missing in almost any modern new building.
This unique 5+kt apartment in Prague has a large glassed-in window and will impress you with its spaciousness and openness. Its huge glass surfaces not only give the future residents a stunning view, but also plenty of natural light throughout the day. An extra bonus is a very attractive location in Vinohrady.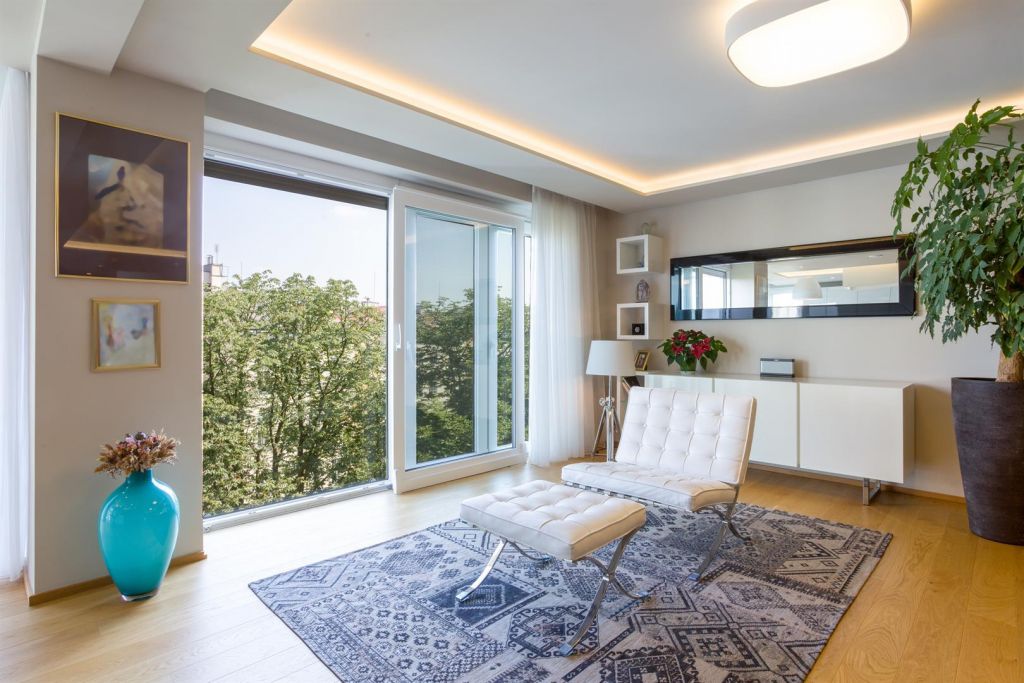 Bright interior
Recent trends include a bright interior that evokes feelings of purity, softness and elegance. The color may not always be pure white, but 'off-white', which also contain other tones – for example, vanilla white, light beige or light pink.
This attractive 4+kt apartment in the Josefov district represents the original rendering of the bright interior. After careful examination we find that white color is beautifully complemented by shades of beige and gray. In addition harmonized colors, your attention will surely be captivated by modern decoration and timeless furniture design, which perfectly underlines the minimalist character of this luxury apartment.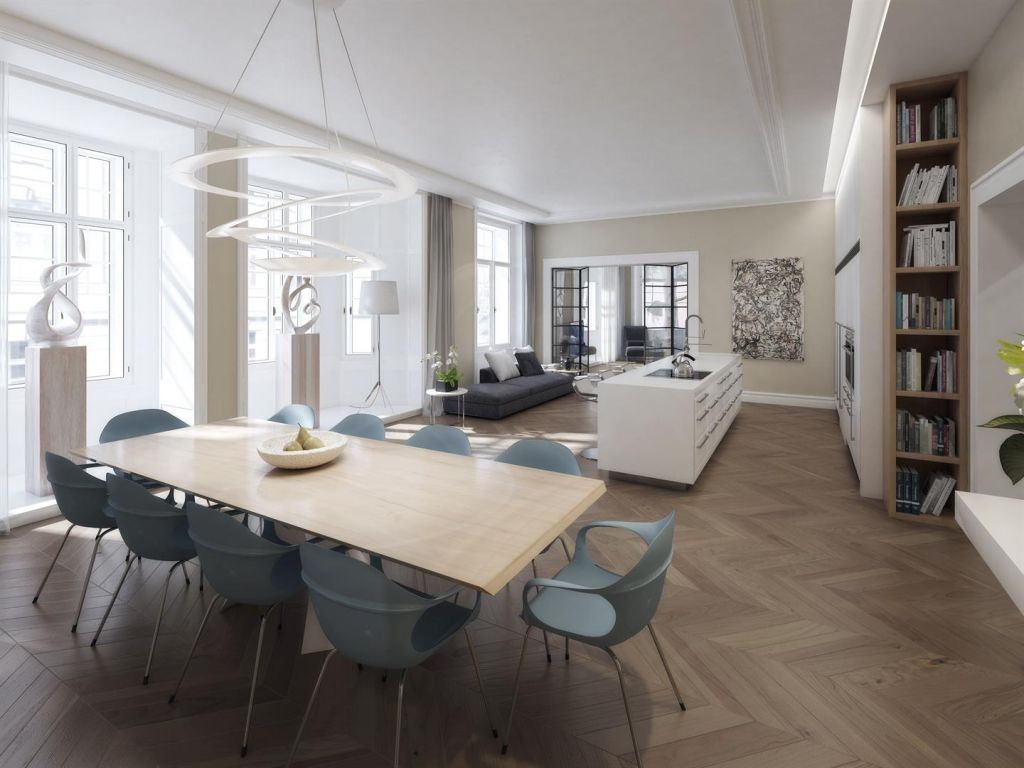 Wooden floors
Nothing complements the minimalist style better than wooden floors. It is the combination of natural elements with this artistic direction that creates a sympathetic duo, which in 2020 will clearly reap much success.
Thanks to their appearance, wooden floors are perfectly suited not only to rustic interiors, but also to modern apartments, where they can look both graceful and gentle, as well as massive and distinctive – just choose the right shade.
A great example of these floors can be found in a luxury apartment in a residential area of ​​Prague 5. At first glance you will be attracted by a wooden massif, which contrasts perfectly with the bright interior and at the same time perfectly fits with elegant wooden elements on the walls. There is also the above-mentioned trend in the form of large-format glazed windows, which offer a beautiful view of Prague's panoramas.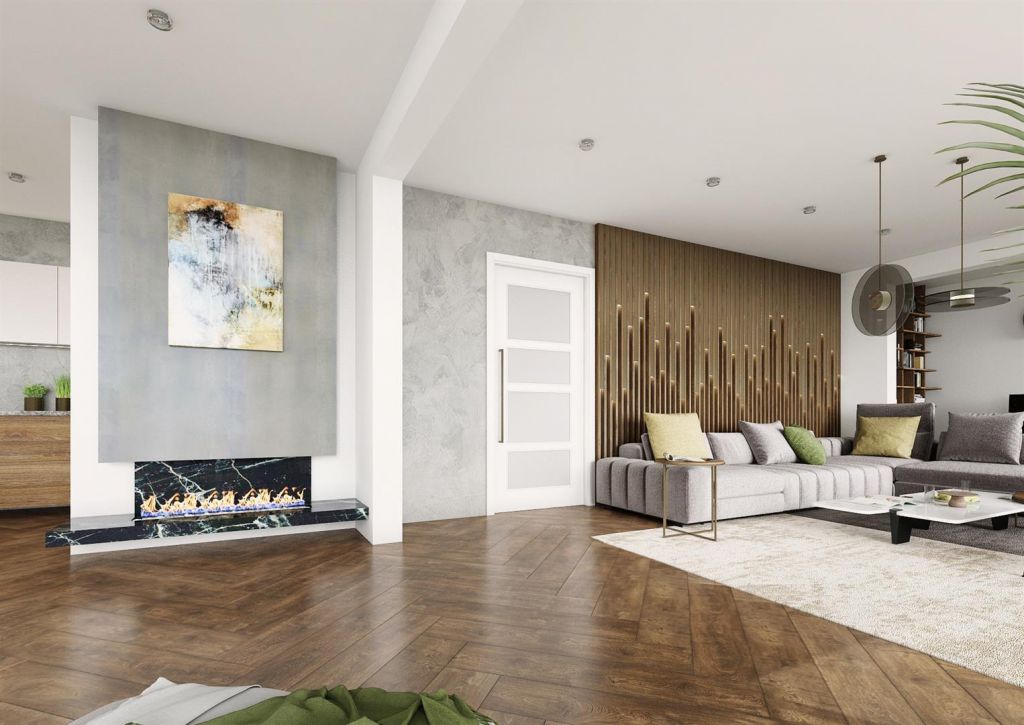 Most of the interiors are nowadays designed according to current hits and novelties, which serves as a great attraction not only for developers but also for potential residents who enjoy modern and timeless living.
The above-mentioned Prague apartments and related trends are just a proof of how flexibly designers react to the contemporary home fashion. To sum up, open, bright and airy spaces combined with minimalism will definitely dominate the interior hits of 2020.